Well today's post was a fun one, and this is a little different from the content I usually share here. To be honest, the most difficult part of today's post was getting up the nerve to use this photo with my face all contorted like that. I know we're our own worst critics, but geesh.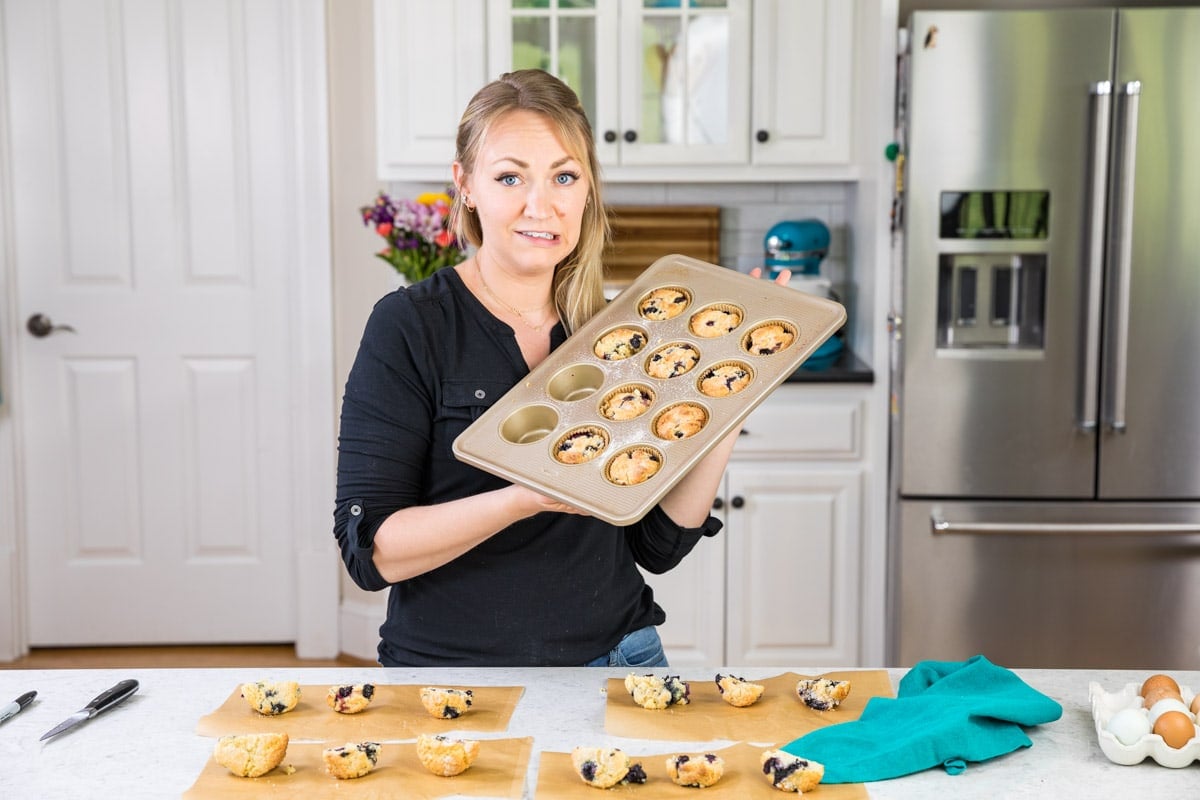 Anyway, my vanity issues aside, most of you know Artificial Intelligence (AI) and ChatGPT have made noisy, if not earth-shattering, entrances onto the internet. Some people think AI will take over the world and end humanity, others worry it will put them out of work. Both are probably valid concerns, but personally I'm just worried it's going to be putting out super crummy recipes.
One of the reasons I started this blog is because I personally was pretty sick of crummy recipes. Without trying to sound too dramatic, I pour my heart and soul (and way too many $$, gotta hide the grocery store receipts from my husband as I test that pistachio cake for the 8th time after telling him I was happy with it last week) into each and every recipe.
So the thought that some robot in the sky (I know, I know, not really) could come up with a better recipe than I could? It was a bit hard to believe and a bit offensive. I mean, this faceless entity doesn't even have tastebuds, come on!
So I put it to the test. I went online and I asked ChatGPT (the latest and most advanced version available) to give me its BEST recipe for blueberry muffins. And then, I pitted it against my own personal, carefully tested blueberry muffins.
Here's what ChatGPT came up with: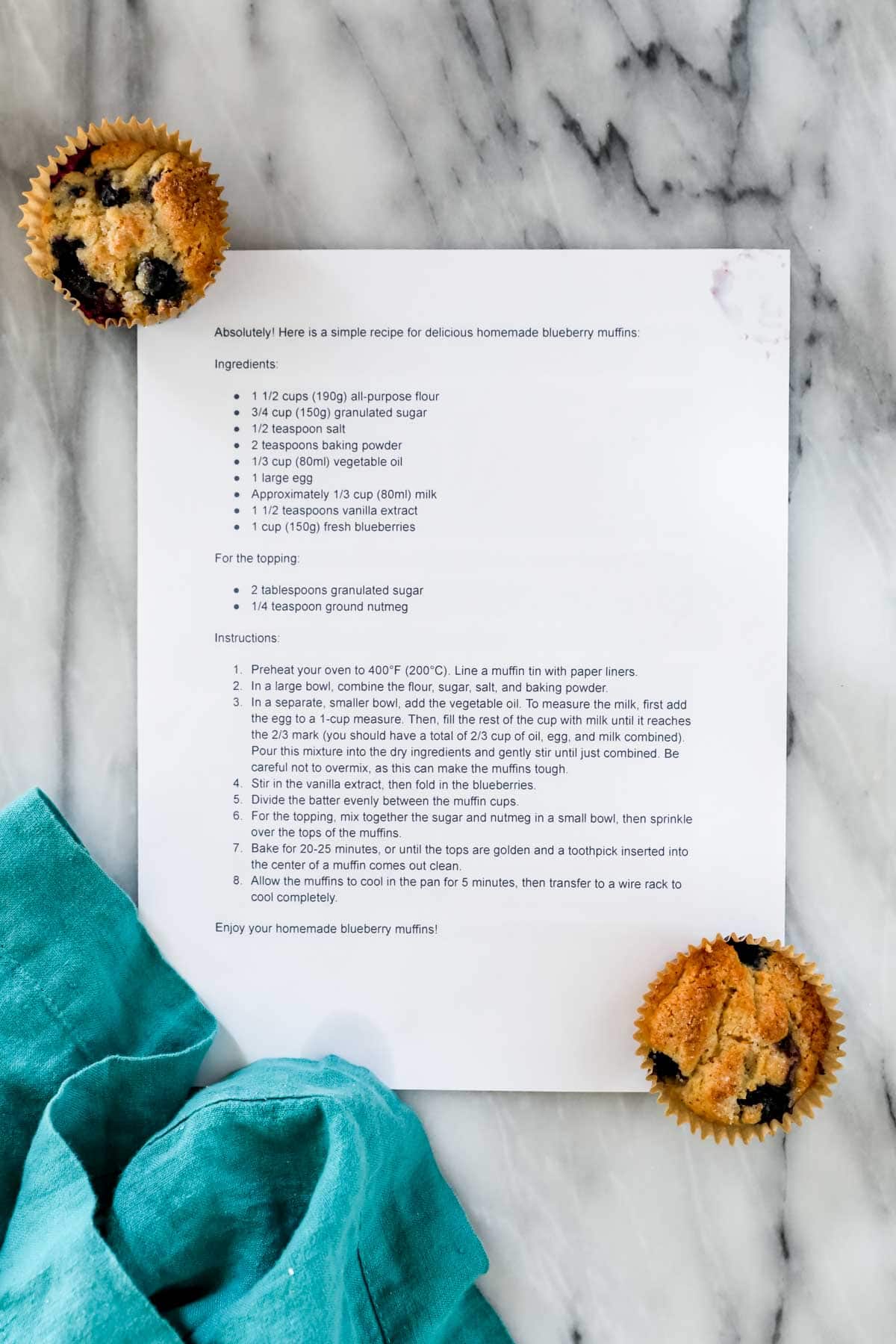 I'm going to include the AI recipe in a recipe card at the bottom of this post, as I usually do, but I encourage you to read on before you jump to trying it. Oh, and I also filmed myself making this AI-generated "best" muffin recipe from start to finish, so if you really want to see how this recipe test went down, definitely check that out at the bottom of the post, too.
My Thoughts on the AI-generated recipe
At first blush, this recipe seems very standard and basic. I don't mean that as a criticism — who doesn't love a good easy recipe!? In fact, I was a bit worried that my slightly more cumbersome recipe that used slightly less basic ingredients wouldn't stack up.
But I don't make my recipes not-basic just to be different. I do it because I really, truly, am trying to make the best recipe out there, and sometimes that means a little extra technique or an ingredient you may not have used before. And typically I'm pretty thrilled with the end results. I mean, here's my blueberry muffin: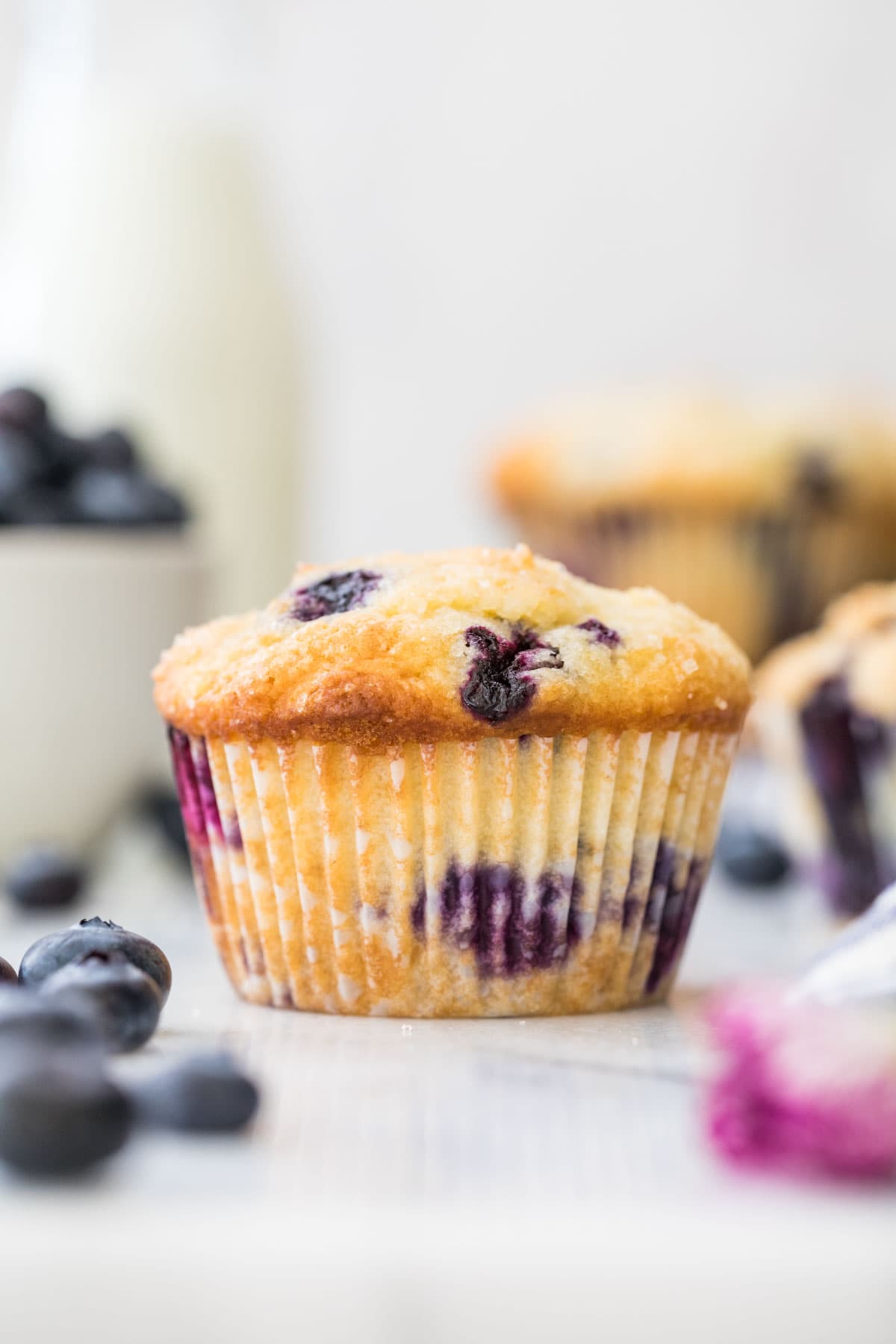 Glorious. I love it. But back to AI.
The nutmeg that was called for in the topping kind of seemed a bit unusual to me, but everything else seemed standard. I committed to giving it my best shot and expected a decent muffin and honestly crossed my fingers it wouldn't be better than my own.
Following ChatGPT's Instructions (or trying to)
I prepped all the ingredients for the recipe and got to work. Everything started off without a hitch… until we got to step 3. I'd love for you to read over that part and tell me what you think that means. Do we measure the milk with or without the vegetable oil? What?
I was extremely confused and ultimately decided I should measure the milk separately from the oil, since it had me pour the oil into a bowl and the milk into a measuring cup. Well, after getting this batch of muffins in the oven, I realized why don't I just ask ChatGPT what it meant? And so I did (see below). And guess what? My assessment was wrong, so I had to then go back and make another batch of muffins the "correct" way.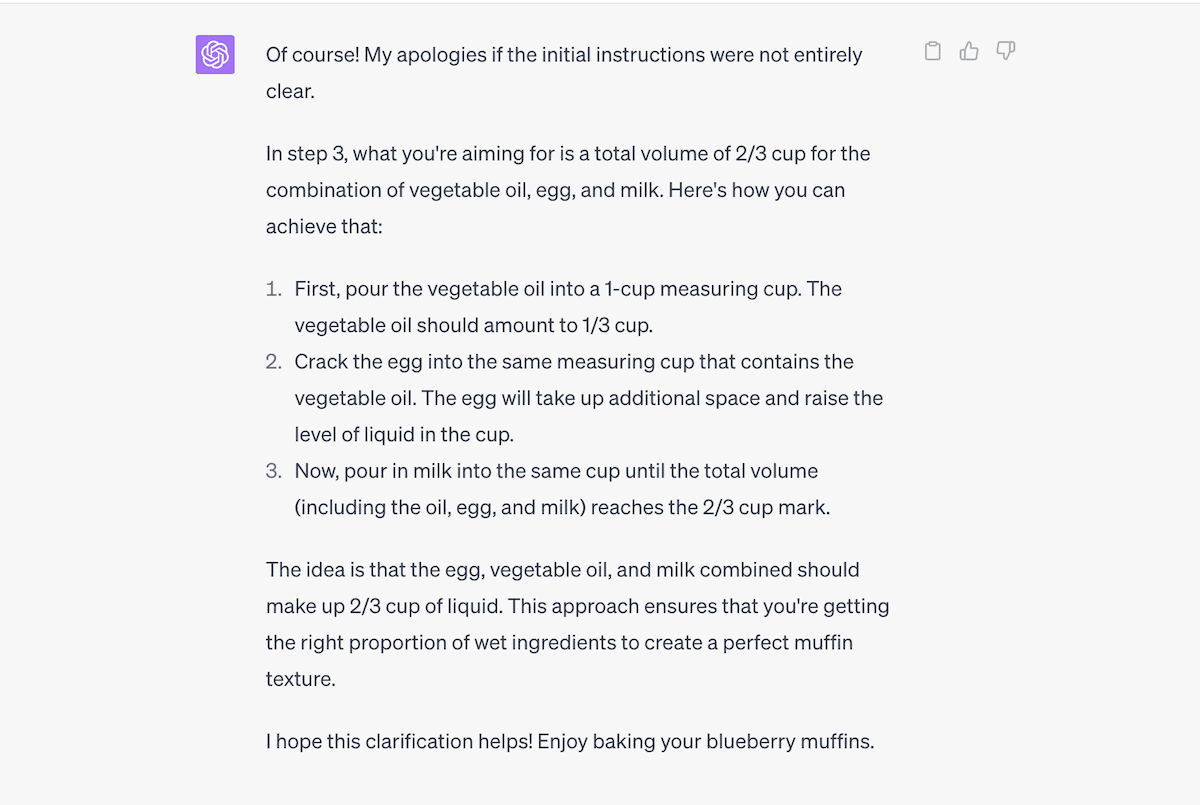 I was miffed. But I continued. We then ran into another issue fairly quickly.
The recipe has you gently fold the oil, egg, and milk into the dry ingredients and urges you not to over-mix it. I'd say most bakers understand the importance of this and was pleased to see ChatGPT mentioned such an important step. BUT THEN, it had us stir in the vanilla extract.
Well, ChatGPT, it is literally impossible to work vanilla extract into a wet and dry batter without mixing it much more than you need to. The dough was like a cookie dough, it was thick and sticky and I was both relieved and aghast. I mean, are you kidding me?
However, I persevered and popped those babies in the oven for a suspiciously long indicated period of time of 20-25 minutes at 400F.
The final results are below: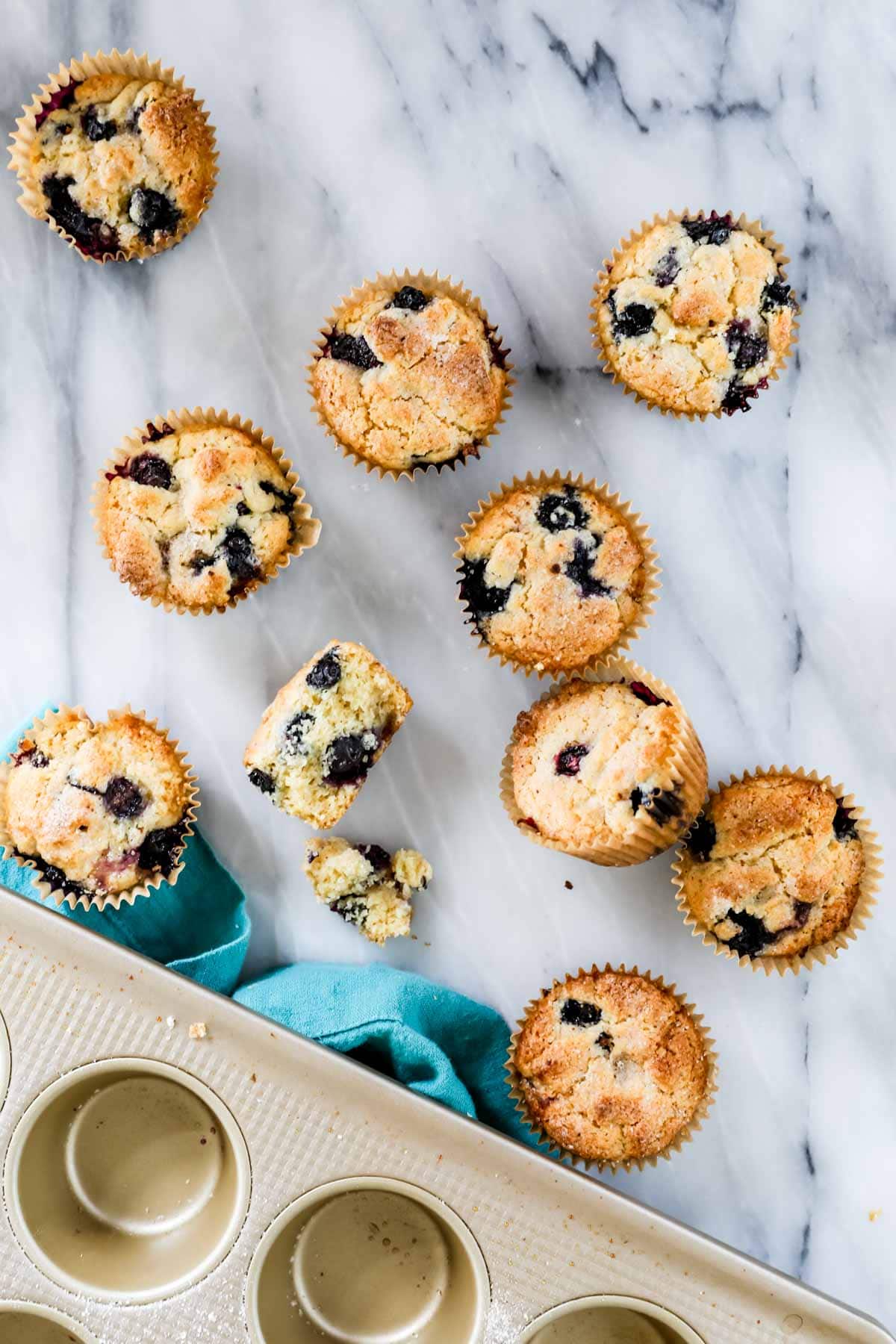 Testing ChatGPT's Blueberry Muffins Against My Own
I'm curious what your first thought is upon seeing these. Mine was that they didn't look half as bad as I thought they would. I mean, they look like muffins, so they get a point for that. However, remember the first, "messed up" batch of muffins that I made by incorrectly following AI's messy, convoluted instructions? Those honestly looked much better, so when I did my final taste test (which I also did with several blind taste-testers), I included that version as well.
For all of the images below, muffin #1 is the "correct" and final version from ChatGPT, #2 is the first muffin that I made (the "incorrect" version where I used too much milk because their instructions are, frankly, awful), and #3 is my own dear sweet innocent and gloriously blueberry-y blueberry muffin recipe. Not that I'm biased.
Let's do a side-view.
Muffin Comparison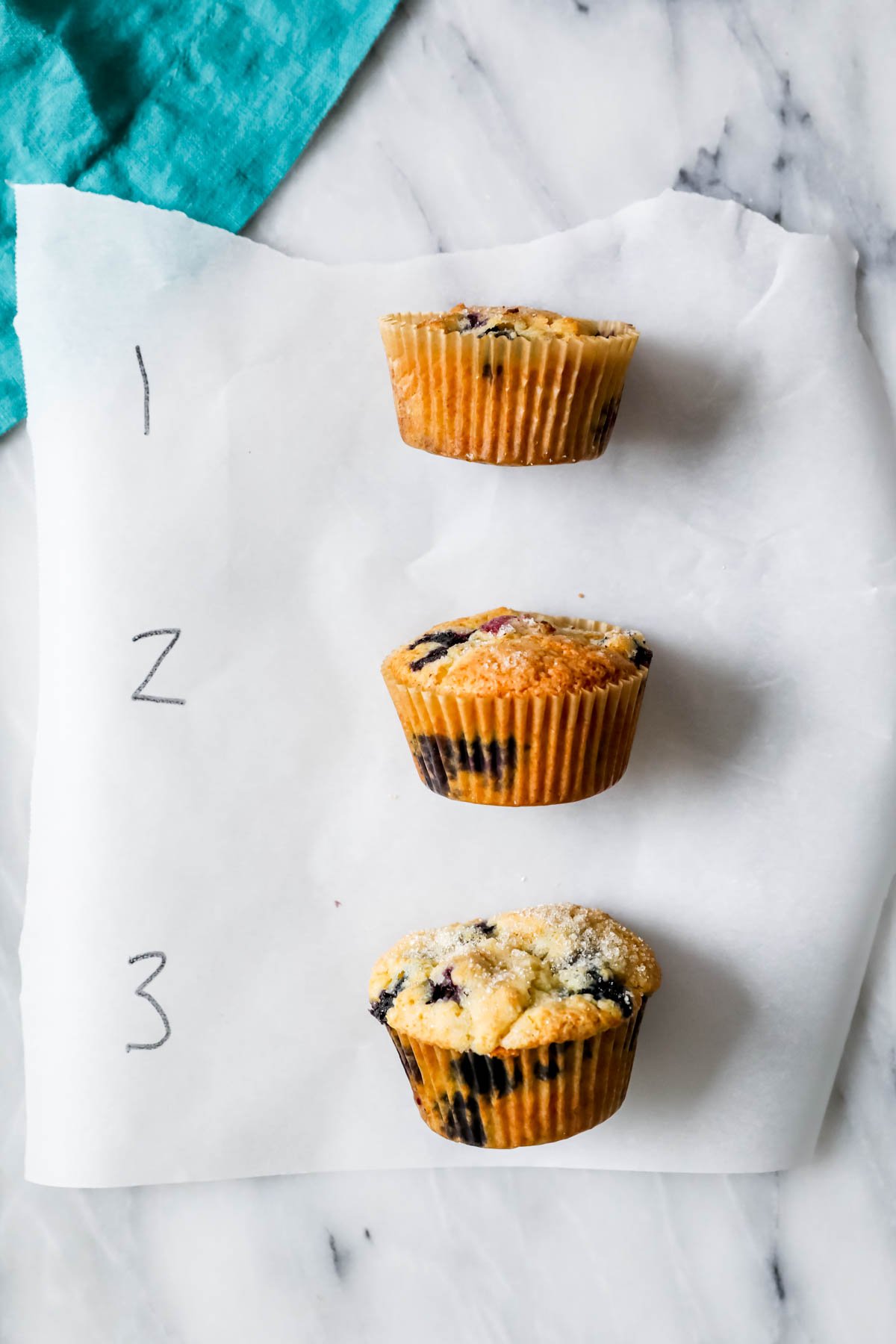 ChatGPT's "best" blueberry muffin is a bit shriveled and small, and if you knock it against a piece of marble it makes a distinct little "knock"ing sound and doesn't give at all. The bake time was definitely too long and the crumb was just bad, but we'll talk more about that in just a second.
The second muffin looked better, but the crumb also wasn't great. It was an acceptable muffin, but not a "good" one.
Then there was mine. With its tall muffin top and nutmeg-free topping, plush melt-in-your-mouth crumb and above-average blueberry count… My personal taste-test wasn't blind and I'm not unbiased, but it was unquestionable to me which one was the best of the three.
Let me show you their interiors, and I think it'll be quite plain to you, too:
Muffin Interior Comparison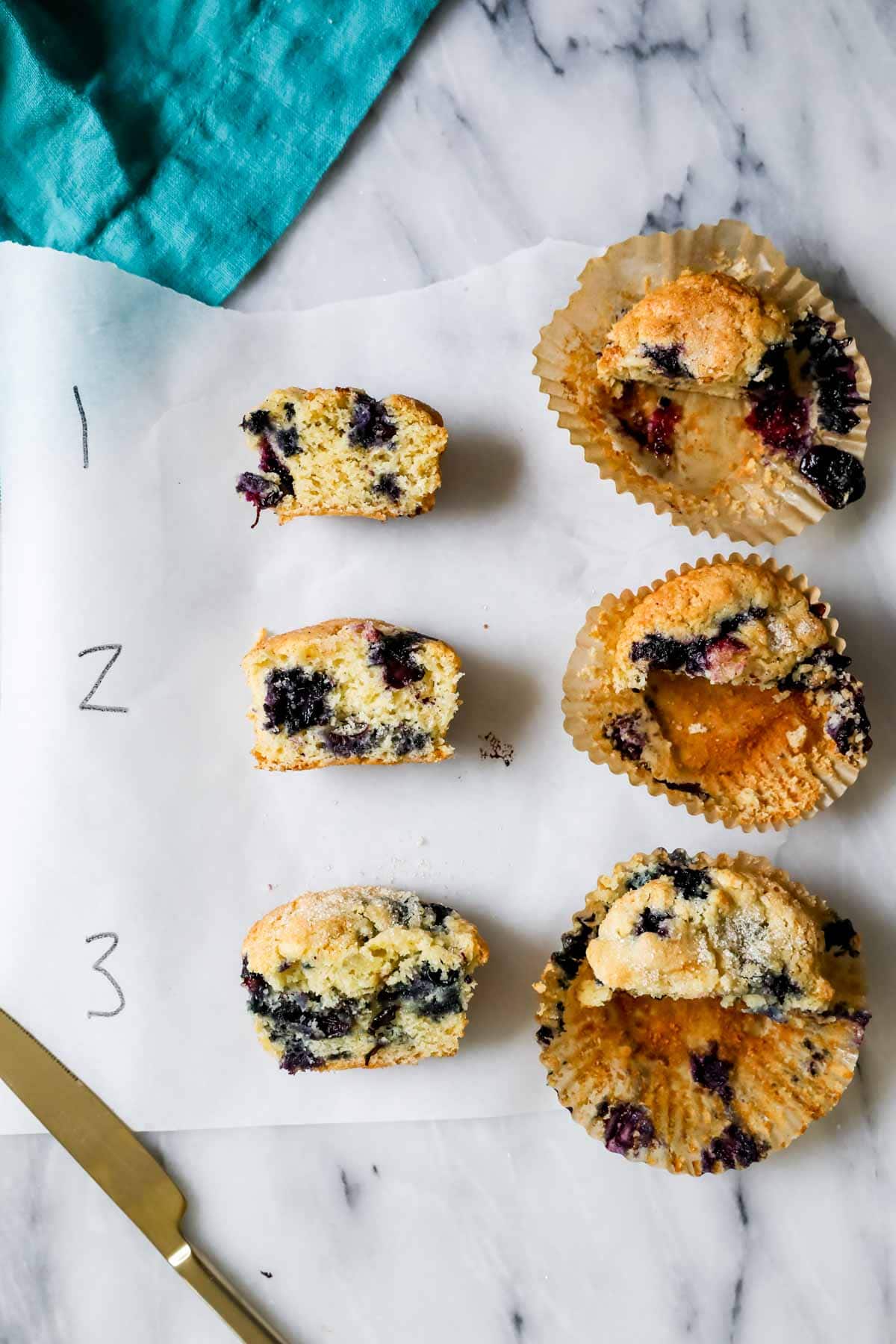 ChatGPT's recipe had a flat, dense crumb. It was crumbly like cornbread. If you've ever made a vanilla cake that turned out like this, it was likely over-mixed and/or over-baked, and that's exactly what I think happened here. The "incorrect" version had a better crumb, but it still wasn't great.
The flavor of the AI recipe was regrettably dominated by the nutmeg on top. It was an odd choice for a blueberry muffin, and not a single one of my taste-testers enjoyed it. To be fair, they were all related, so maybe they share an anti-nutmeg-in-blueberry-muffins taste gene; I can't be sure without further testing.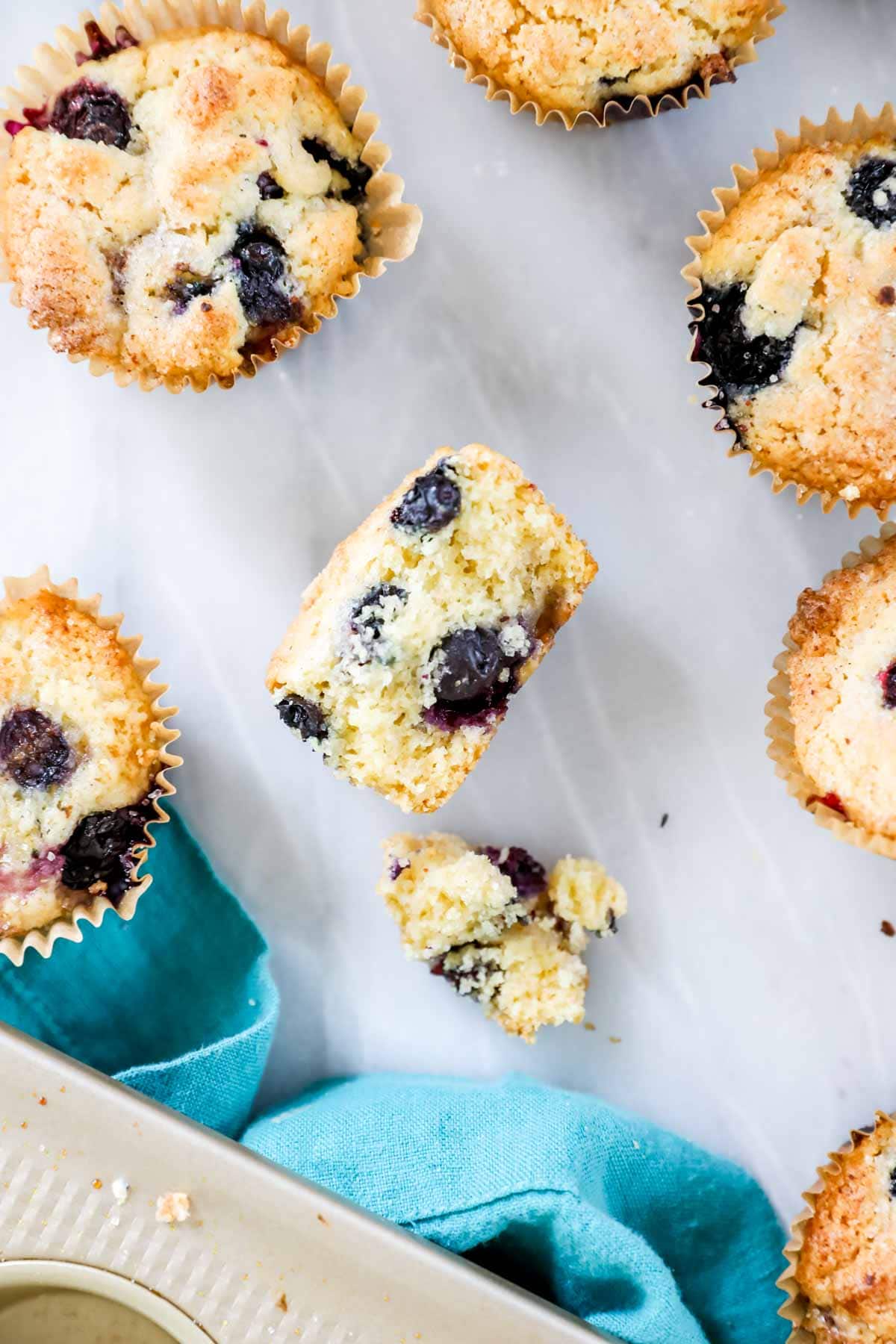 Final Thoughts on Artificial Intelligence Recipes
My final thoughts are that Artificial Intelligence simply isn't "there" yet in terms of recipe development. It's possible that you may fare better asking for a cooking recipe than baking ones, as baking generally requires a bit more chemistry and science and some cooking recipes may be more forgiving. For now, and hopefully forever, I hope you'll continue to go to trusted sources for the recipes for baked goods that you prepare for your families.
But also, while I honestly tried my best to make this recipe and comparison as fairly as possible I am super biased!
So, I'm including ChatGPT's recipe below exactly as it was given to me and I'm inviting those of you who prefer to take research into your own hands to give it a try. If you do, please let me know what you think! Oh, and make sure you check out the video below… Luke almost got kicked out of the family for his take 🤣
ChatGPT's "Best" Blueberry Muffins
This recipe is not one I recommend if you're looking for a great blueberry muffin recipe (see my best blueberry muffins, instead). No, this is ChatGPT's version of the best blueberry muffins. I'm providing it here for reference and in case you would like to do your own recipe test against mine or another recipe. If you try it, I'd love to hear your thoughts!
Print
Pin
Rate
Ingredients
1 ½

cups

(190g) all-purpose flour

¾

cup

(150g) granulated sugar

½

teaspoon

salt

2

teaspoons

baking powder

⅓

cup

(80ml) vegetable oil

1

large egg

Approximately ⅓ cup

80ml milk

1 ½

teaspoons

vanilla extract

1

cup

(150g) fresh blueberries
For the topping:
2

tablespoons

granulated sugar

¼

teaspoon

ground nutmeg
Instructions
Preheat your oven to 400°F (200°C). Line a muffin tin with paper liners.

In a large bowl, combine the flour, sugar, salt, and baking powder.

In a separate, smaller bowl, add the vegetable oil. To measure the milk, first add the egg to a 1-cup measure. Then, fill the rest of the cup with milk until it reaches the ⅔ mark (you should have a total of ⅔ cup of oil, egg, and milk combined). Pour this mixture into the dry ingredients and gently stir until just combined. Be careful not to overmix, as this can make the muffins tough.

Stir in the vanilla extract, then fold in the blueberries.

Divide the batter evenly between the muffin cups.

For the topping, mix together the sugar and nutmeg in a small bowl, then sprinkle over the tops of the muffins.

Bake for 20-25 minutes, or until the tops are golden and a toothpick inserted into the center of a muffin comes out clean.

Allow the muffins to cool in the pan for 5 minutes, then transfer to a wire rack to cool completely.

Enjoy your homemade blueberry muffins!
Nutrition
Serving:
1
muffin
|
Calories:
181
kcal
|
Carbohydrates:
28
g
|
Protein:
2
g
|
Fat:
7
g
|
Saturated Fat:
1
g
|
Polyunsaturated Fat:
4
g
|
Monounsaturated Fat:
2
g
|
Trans Fat:
0.04
g
|
Cholesterol:
14
mg
|
Sodium:
155
mg
|
Potassium:
33
mg
|
Fiber:
1
g
|
Sugar:
16
g
|
Vitamin A:
27
IU
|
Vitamin C:
1
mg
|
Calcium:
55
mg
|
Iron:
1
mg
Nutritional information is based on third-party calculations and should be considered an estimate only. Actual nutritional content will vary based upon brands used, measuring methods, cooking method, portion sizes, and more.
Here are some more blueberry recipes that are better than anything a robot could make: