Have you ever made Scotcharoos before?  They're simple to make, peanut butter rice krispie treats (minus the marshmallows) topped with a chocolate butterscotch coating and a bright butterscotch swirl.  The swirl on top is optional, but the easy technique is explained in the recipe!
I feel ridiculous calling these dessert bars by their given name.
Scotcharoos.  It sounds almost as silly as Snickerdoodle.
I don't mind typing it out (evidently), but I feel like it dashes my small store of dignity every time I have to speak their name out loud.  How can you take someone seriously when they're throwing around words like Scotcharoos with a straight face??
I brought these into work after I made them and boldly labeled them with black sharpie so that no one would ask me what they were called.  These are the things I think about.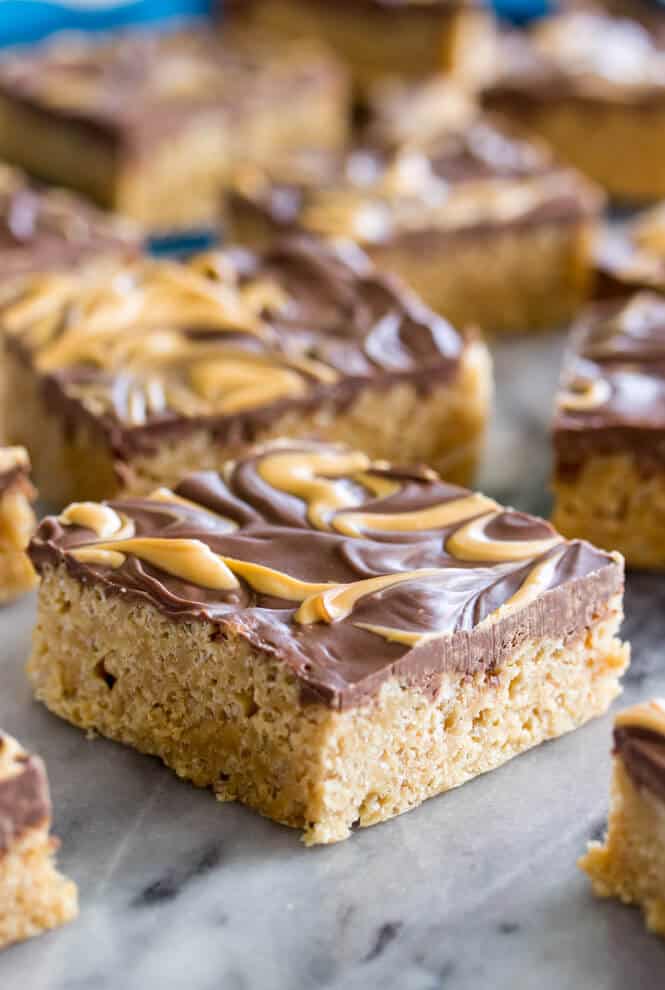 While I don't love the name, I do love the taste.  It's a combination of peanut butter-y, extra dense, chewy rice krispie treats and a nice pop of chocolate butterscotch flavor in every bite.
Scotcharoos are a nice alternative to traditional rice krispie treats, but they require slightly more attention, and it's important to follow the directions just as they are written.
I've provided these details in the actual recipe, but the sugar/corn syrup (please note, this is not the same as high fructose corn syrup!) mixture should just come to a boil (just begin bubbling) when you remove it from the heat.  You don't want to boil them too much or they will come out too hard.
Simple details that help make these Scotcharoos come out perfect every time.
For Scotcharoos, typically you melt the chocolate and butterscotch chips together for a deliriously delicious fun flavored chocolate coating.  I did that, but to pretty things up a bit I also added a butterscotch swirl.
It's easy and it's optional (but recommended); to make the swirl you'll first melt together your chocolate and butterscotch chips.  Set them aside and then melt a small amount of butterscotch chips separately.  Once your butterscotch chips have melted, pour the chocolate/butterscotch mixture over your scotcharoos (spread it evenly).  Then, take your melted butterscotch chips and drizzle them haphazardly over the chocolate.
To make the swirls, all you have to do is drag a toothpick point all over the surface.  Simple as that.
If you're impatient for the chocolate to harden you can place the bars in the refrigerator to speed things along, but ultimately scotcharoos are best when served at room temperature.  This keeps them nice and chewy and not too hard.
Enjoy!
Scotcharoos
Scotcharoos! Peanut Butter Rice Krispie Treats with a chocolate butterscotch swirled topping.
Ingredients
1

cup

light corn syrup

235ml

1

cup

sugar

200g

1/4

cup

butter

(cut into 4 pieces) 57g

1 1/2

cup

creamy peanut butter

375g

1/2

teaspoon

vanilla extract

1/4

teaspoon

salt

6

cups

crisped rice cereal

1

cup

semisweet chocolate chips

170g

1 1/4

cup

butterscotch chocolate chips

(divided) 212.5
Instructions
Line a 13x9 pan with foil and generously grease with butter. Set aside.

In a large pot, combine corn syrup, sugar, and butter over medium-low heat, stirring occasionally until butter is melted and ingredients are well-combined.

Increase heat to medium-high and stir frequently. Once mixture just begins to boil (as soon as it starts bubbling) remove from heat and stir in peanut butter, vanilla extract, and salt.

Stir well until mixture is smooth.

Stir in cereal -- make sure ingredients are well-combined.

Spread ingredients evenly into prepared pan, Press down to pack into pan (I like to place a sheet of wax paper over the mixture and use my hands to press the scotcharoos down and make them even -- be careful as it may be hot), then discard wax paper.

Set aside and prepare your chocolate topping.

In a medium-sized microwave safe bowl, combine semisweet chocolate chips and 1 cup (170g) butterscotch chips.

Microwave for 30 seconds, stir well, and return to microwave at 15-second increments, stirring well in between until mixture is completely melted. Set aside.

Immediately melt remaining 1/4 cup (42g) butterscotch chips (15 second increments, stirring between).

Spread chocolate butter-scotch mixture evenly over prepared scotcharoos. Drizzle melted butterscotch chips over the chocolate and then drag a toothpick through the chocolate for swirls.

Allow chocolate to set (about an hour at room temperature) before cutting and serving.
Nutrition Facts
Scotcharoos
Amount Per Serving
Calories 217
* Percent Daily Values are based on a 2000 calorie diet.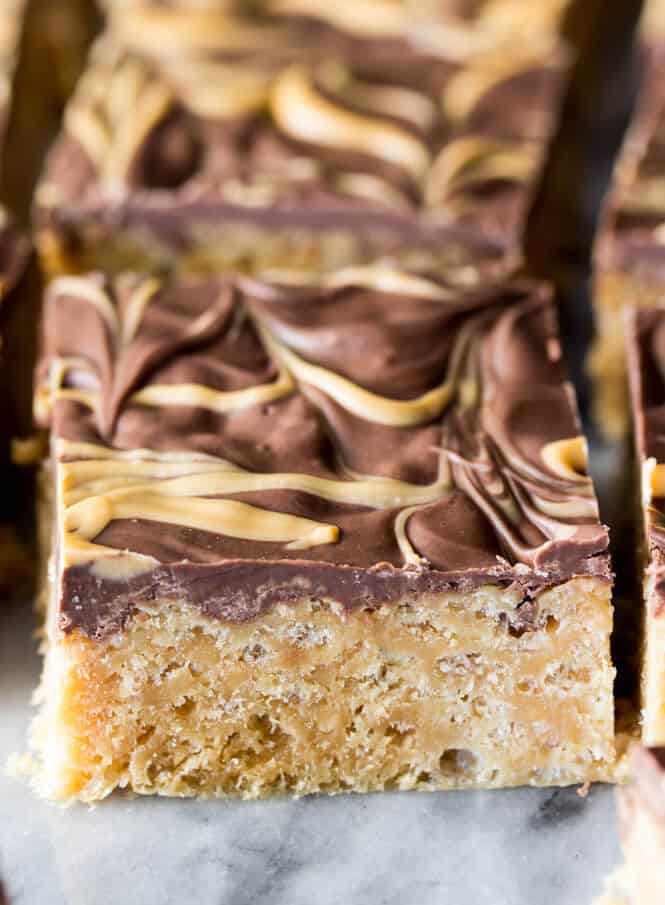 You Might Also Like:
Cake Batter Rice Krispie Treats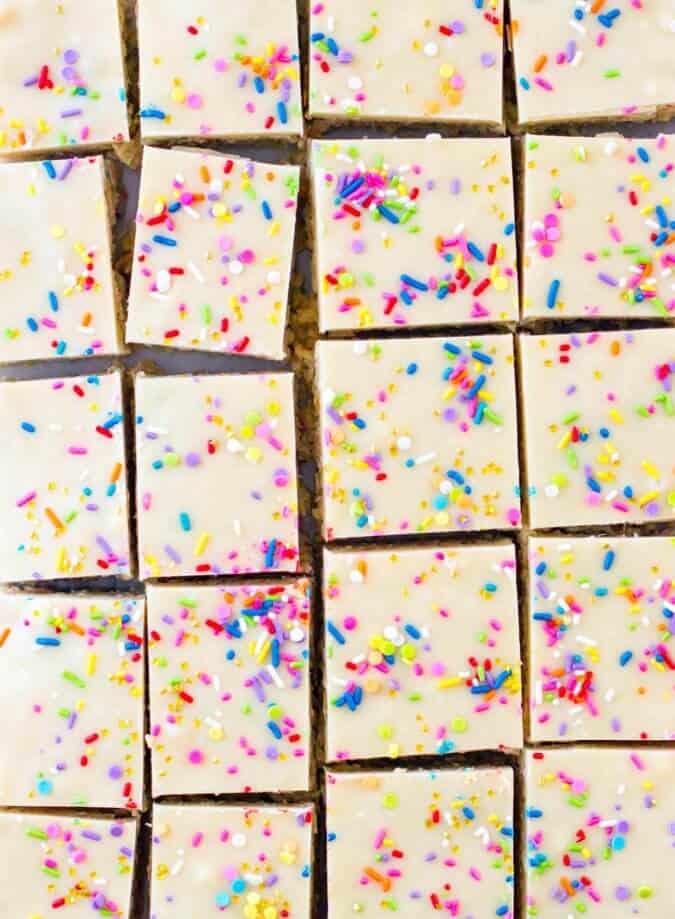 Caramelized Rice Krispie Treats