Light and chewy coconut macaroons!  These sweet and simple cookie mounds require only five ingredients! Lightly toast them in the oven and bonus points if you dip them in dark chocolate! Today's recipe also includes a how-to video at the bottom of the post!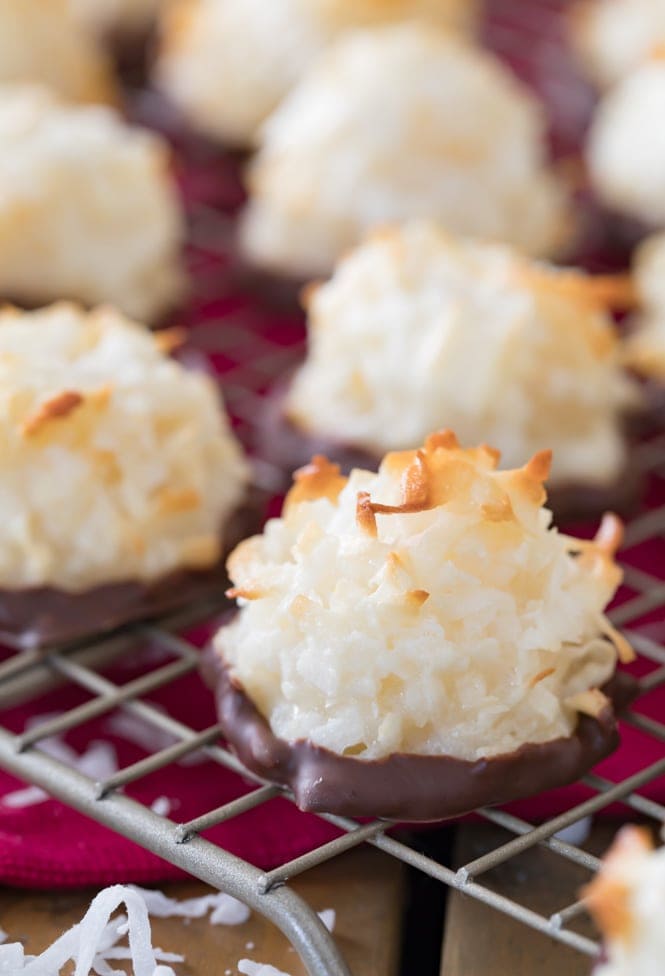 I swear, I have never had as difficult of a time getting recipe tasters as I did for these coconut macaroons!
Evidently I'm surrounded by coconut-haters! Zach especially turned up his nose at them (he was practically offended when he saw shredded coconut on our shopping list), and most of my family members refused to try them because "ew, coconut". 🤦🏼‍♀️
So where do you fall? Do you love it, or hate it?
I (obviously?) love coconut. I have a slight obsession with my coconut cake recipe as well as these coconut cookies, and I hope that some of you out there like it as much as I do and actually will enjoy these perfectly delicious and chewy cookies.
Is There a Difference Between a Macaroon and a Macaron?
Why, YES, and I'm so glad you asked. Macaroons and macarons are actually very different.
What you see here today is a coconut Macaroon (please note the double "o"s). Macaroons are made with coconut and egg whites. They are usually shaped in little mounds and have a chewy texture. Generally speaking, macaroons are not terribly difficult or time consuming to make.
Macarons (single "o"),on the other hand, are not made with coconut. They are a delicate French sandwich cookie made primarily of almond flour and egg whites. Macarons are usually colorful and are sandwiched around a filling (usually jam, ganache, or buttercream). They are time consuming and difficult to make. Fortunately, we're focusing on the easy recipe today 😉
Coconut Macaroons are incredibly simple to make, and I just have a few tips for you below in order to make them come out perfectly every time.
The most important part of making this recipe is whipping your egg whites to stiff peaks.  So, in case you were wondering…
What do Stiff Peaks Look Like?
"Stiff peaks" just means that if you raise your beaters or a spatula or knife directly out of your beaten egg white, the peaks that form do not fall back into themselves and remain stable/stiff.  Below, you can see a picture of exactly what your stiff peaks should look like.  Note that the both the peak in the bowl and on the end of the whisk have held their shape.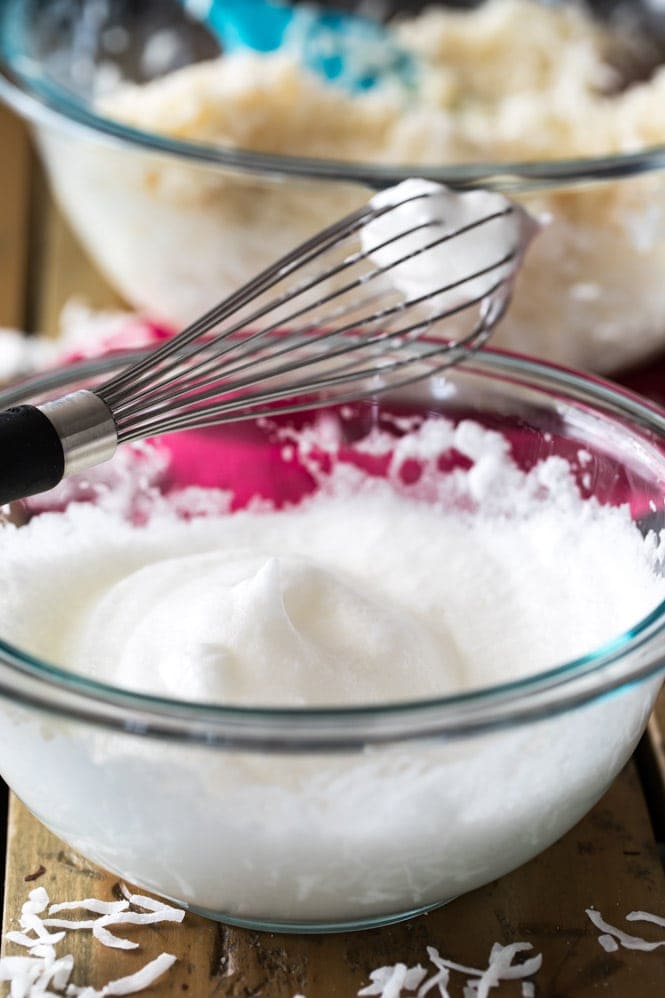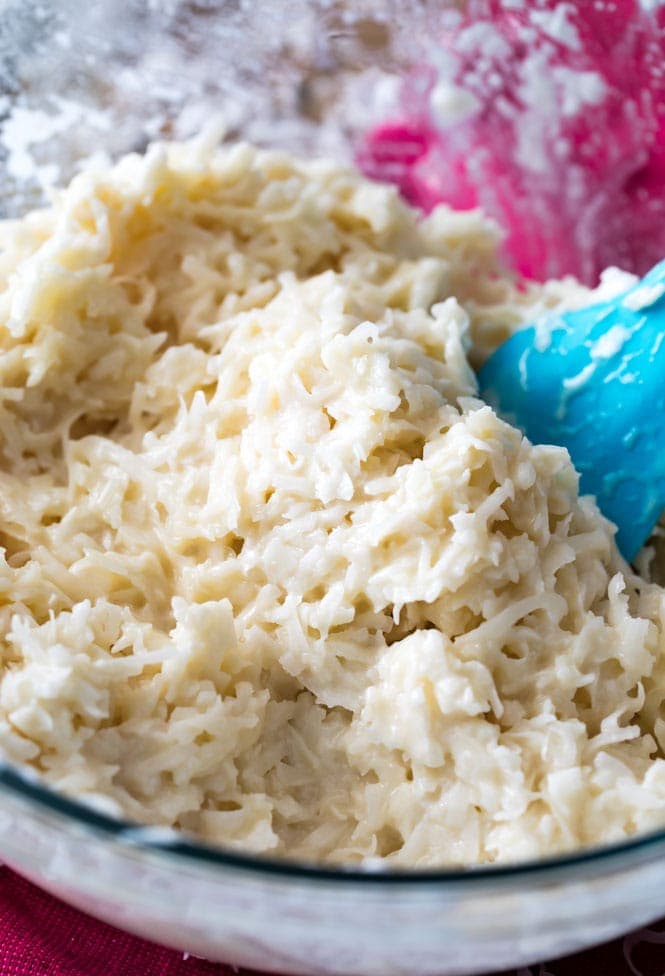 Tips for Perfect Coconut Macaroons
This recipe calls for a "scant cup" of sweetened condensed milk — this just means using slightly less than 1 cup.  I usually look for the condensed milk to reach just below the 1 cup marker line on my liquid measuring cup.
Sweetened condensed milk and evaporated milk are not the same thing, so please don't try to substitute.
Make sure that the bowl you will be using to beat your egg whites is completely clean, dry, and grease free, otherwise your eggs may fail to reach stiff peaks.
How Long are They Good For?
Coconut Macaroons will keep at room temperature in an airtight container for up to one week.  They may also be individually wrapped (after baking and cooling completely) and frozen in an airtight container for several months.
Enjoy (and if you're a coconut-hater, I'm sorry!).
More Great Recipes to Try:
Be sure to check out the video at the bottom of the recipe (it's an older video)! If you enjoy watching, make sure to subscribe to my YouTube channel where I've already uploaded over 100 recipe videos that you can watch for free!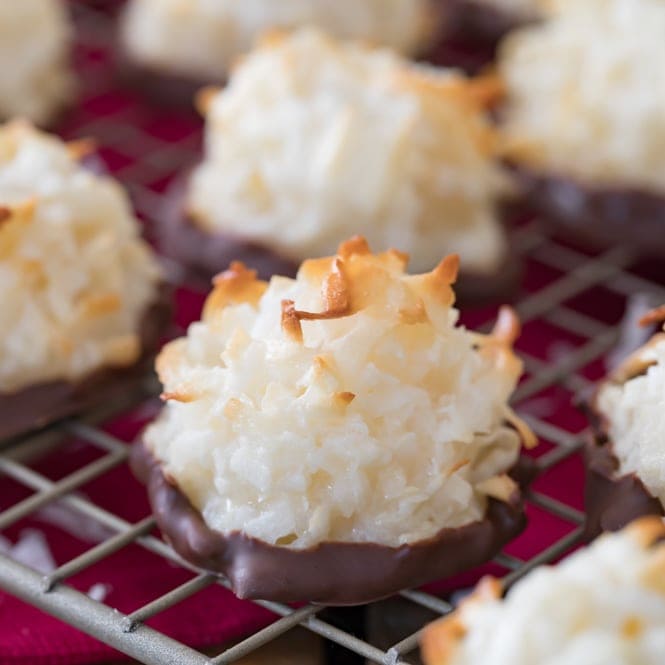 Coconut Macaroons
How to make Coconut Macaroons!
Be sure to check out the VIDEO just below the recipe!
Print
Pin
Rate
Servings:
30
coconut macaroons
Ingredients
14

oz

sweetened coconut flakes

(400g)

1

scant cup*

sweetened condensed milk

(225ml)

1

teaspoon

vanilla extract

2

large

egg whites

room temperature**

¼

teaspoon

salt

4

oz

dark chocolate bar

optional
Instructions
Preheat your oven to 325F (165C) and line a large cookie sheet with parchment paper.

In a large bowl, stir together coconut flakes, condensed milk and vanilla extract until well-combined.

In a separate bowl (make sure that it is completely clean and dry) combine the egg whites and salt.

Using an electric mixer with whisk attachment (you could also use standard beaters if you don't have the whisk attachment, but the whisk is faster) beat egg whites and salt until stiff peaks form (see picture in post for photo of stiff peaks and description).

Gently fold the egg whites into the coconut mixture until completely combined.

Using a 1 ½ Tablespoon-sized cookie scoop, scoop macaroon mixture into balls and drop onto prepared cookie sheet, placing at least 1" apart.  

Bake on 325F (165C) for 20-23 minutes or until tops are just beginning to turn golden brown.

Allow coconut macaroons to cool completely before dipping in chocolate (if desired).

To dip in chocolate -- chop chocolate bar into small even-sized pieces and place in a small microwave-safe bowl.

Heat in 20-second increments, stirring in between) until chocolate is smooth and completely melted.

Dip the bottom of each macaroon into chocolate and return to baking sheet for the chocolate to harden.
Notes
*Just slightly less than 1 cup
**If your eggs are not at room temperature, a quick way to bring them up to temp is to place them in a bowl of warm (not hot!) water and allow them to sit for 15 minutes, then dry the eggs, crack them, and separate the yolks and whites.
Nutrition
Serving:
1
coconut macaroon
|
Calories:
85
kcal
|
Carbohydrates:
9
g
|
Protein:
1
g
|
Fat:
5
g
|
Saturated Fat:
4
g
|
Trans Fat:
1
g
|
Cholesterol:
1
mg
|
Sodium:
62
mg
|
Potassium:
79
mg
|
Fiber:
2
g
|
Sugar:
6
g
|
Vitamin A:
2
IU
|
Vitamin C:
1
mg
|
Calcium:
4
mg
|
Iron:
1
mg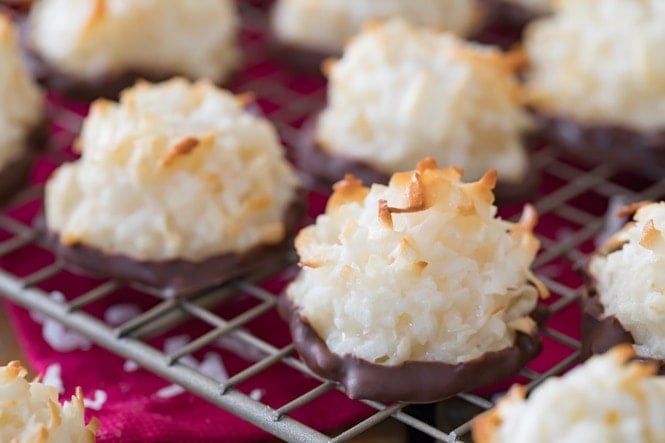 This recipe was originally published 01/31/2018, updated 02/15/2019