A simple, classic broccoli salad that serves as a great fast side dish for any party or potluck.  Made with bacon, cranberries, sunflower seeds, cheddar cheese and a homemade dressing, this is one of my favorite side dishes.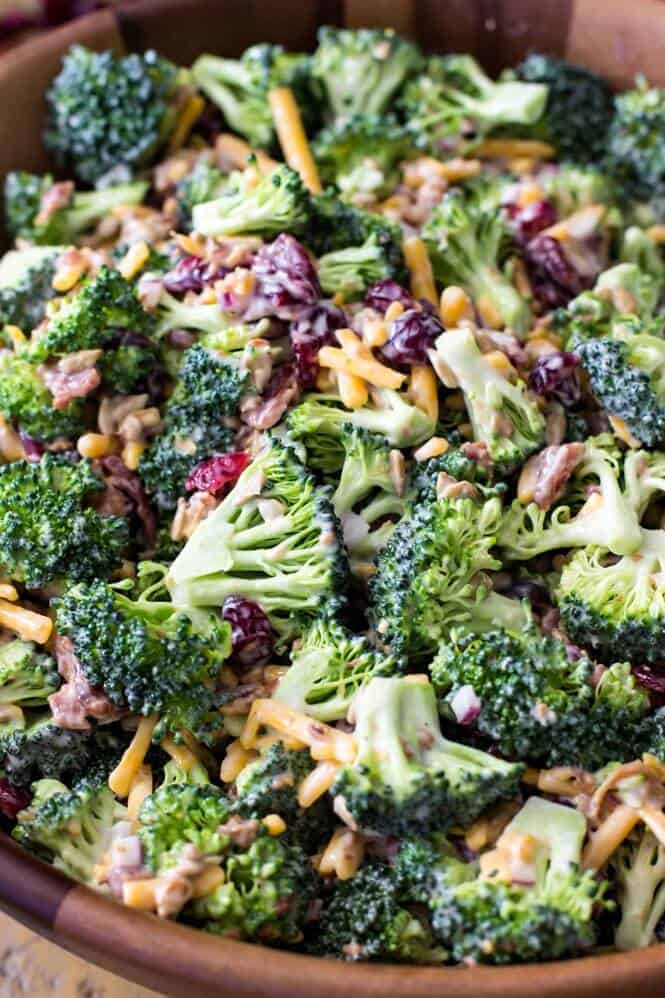 Please do not be alarmed by the amount of green in today's post.
I know it's a little different from what you're used to seeing here, where sugar and chocolate and flour and definitely not broccoli are the norm, but bear with me here.
Today's very green, very broccoli-filled recipe is so good that, after I made it for my family's 4th of July party, I had to bring it onto the blog to share with you (and there is still some sugar involved — read on!).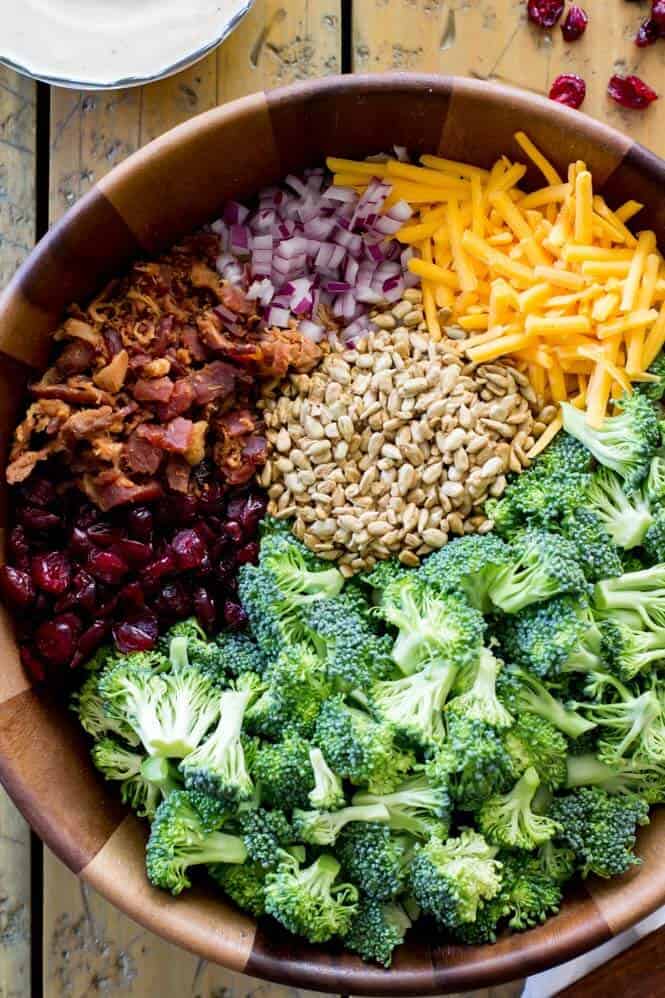 Broccoli salad may be green, but it's not exactly health food.
There's bacon involved, and lots of cheddar cheese as well.  Make sure when buying your cheese you buy the thickest shred of cheese that you can find rather than the fine-shred, and if you're feeling extra ambitious you can just buy a block and shred it yourself.
You can buy pre-cut florets but for me it was cheaper and not much more difficult to just buy a few heads of broccoli and cut it myself.  This recipe required about 2.5 heads of broccoli for me to make, but your mileage may vary depending on the size of your grocery store's broccoli!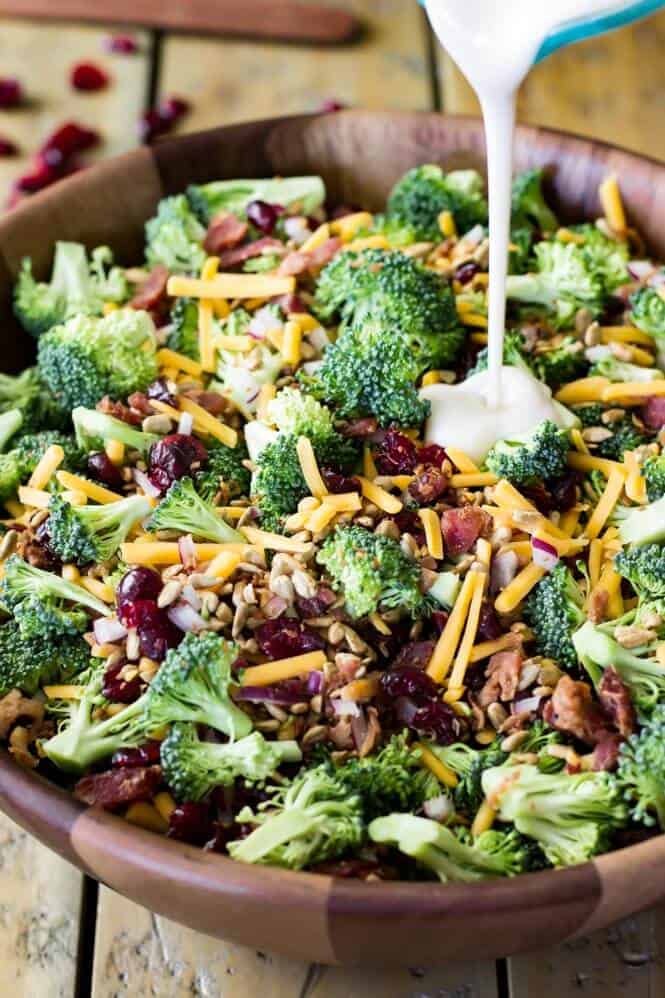 The dressing is what really makes this broccoli salad so wonderful.  I know this already isn't exactly diet-friendly salad with the bacon and cheddar cheese and whatnot, but I do lighten up the dressing just a tad bit by using olive oil mayo rather than full-fledged mayo.
If you want to cut the calories even further, you can substitute plain greek yogurt for the sour cream, and use pre-cooked bacon pieces (make sure they're real bacon and not imitation flavor, usually found in the salad dressing aisle) which generally have less fat than bacon you cook yourself.
A splash of white wine vinegar (though you can use red wine vinegar in a pinch — I had to the last time I made this) gives it a subtle bite, while the dressing also contains sugar which, along with the cranberries, gives it a surprisingly sweet taste without being overly sweet.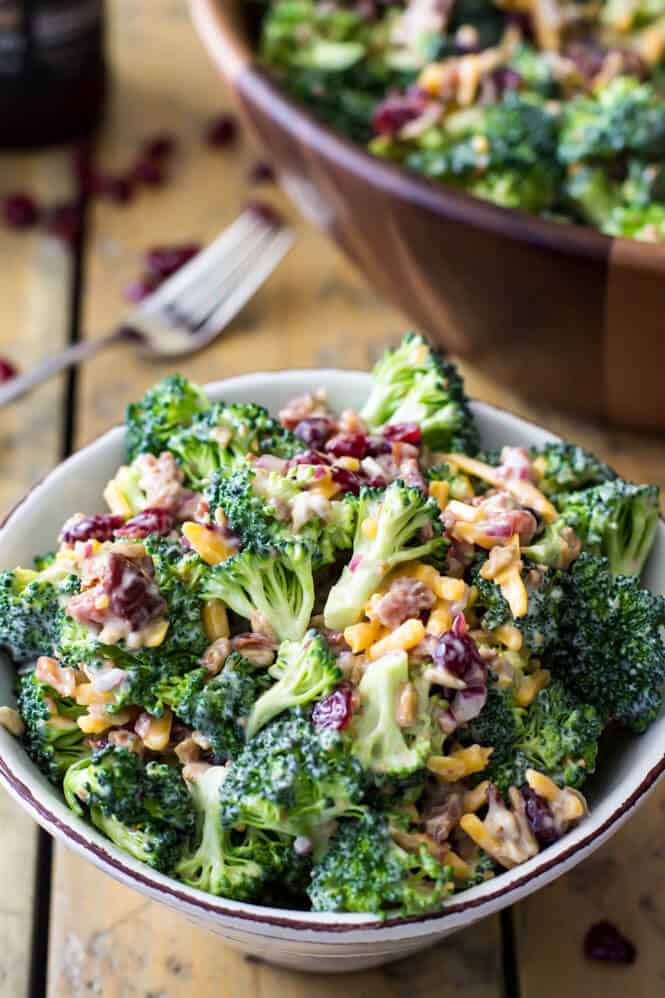 While this broccoli salad can be served right away, I prefer to let it sit in the refrigerator for a few hours to let all of the flavors really meld together, and I always enjoy it most the second day.
OK, I hope I didn't lose you with all of the broccoli photos!
Enjoy! (Full printable recipe just below the video)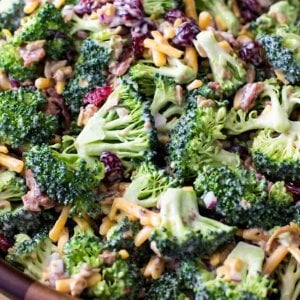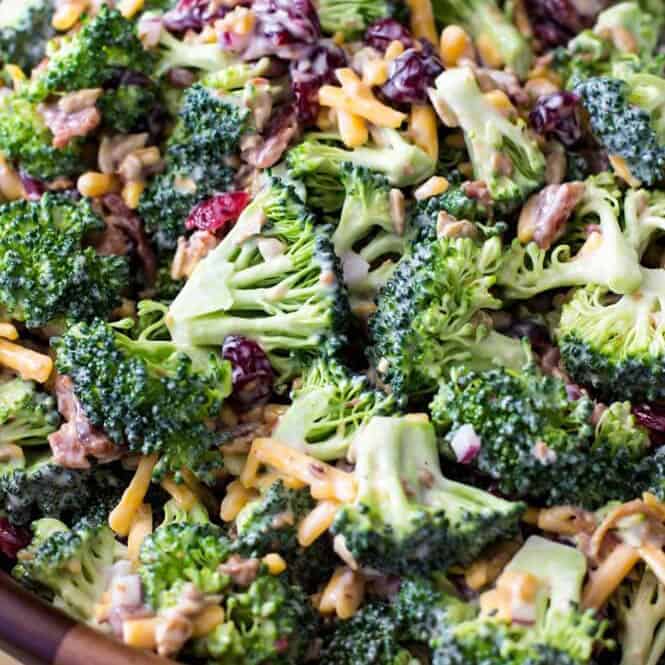 Broccoli Salad
A simple broccoli salad made with bacon, cranberries, and other simple add-ins!
Print
Pin
Rate
Ingredients
5-6

cups

broccoli florets

1 lb, this was about 2 1/2 heads of broccoli for me (450g)

1

cup

sharp cheddar cheese

thicker, not finely shredded (115g)

2/3

cup

dried cranberries

(85g)

1/2

cup

crumbled bacon

(60g)

1/2

cup

salted sunflower seeds

(60g)

1/3

cup

red onion

diced into small pieces (50g)
Dressing
3/4

cup

mayo

I use olive oil mayo (175g)

1/4

cup

sour cream

(70g)

1 1/2

Tablespoon

white wine vinegar

3

Tablespoons

sugar

(40g)

1/4

teaspoon

salt

1/4

teaspoon

pepper
Instructions
Combine broccoli florets, cheddar cheese, dried cranberries, bacon, sunflower seeds, and onion in a large bowl.

In a separate, small bowl, whisk together mayo, sour cream, vinegar, sugar, salt, and pepper until smooth and well-combined.

Pour dressing over broccoli combination and toss or stir well.

Serve. Keep refrigerated if not consuming right away.
Nutrition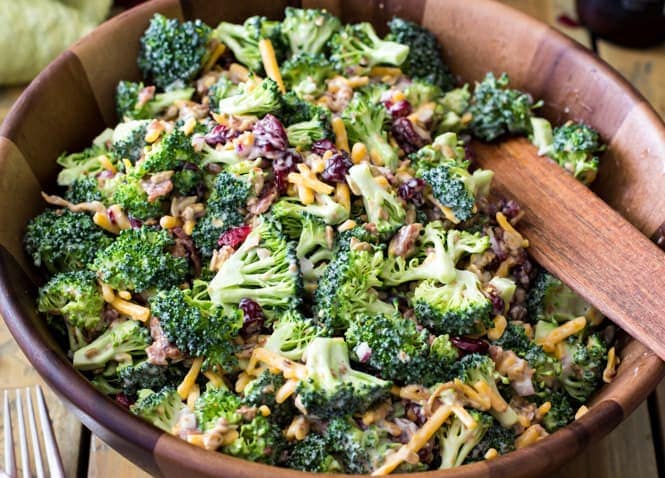 PIN IT:
You Might Also Like: