While risotto may seem fancy or fussy, this sophisticated side dish is surprisingly simple to make and can be ready in under 30 minutes! Today I'm walking you through all the steps with plenty of notes so you can make this creamy, easy recipe at home (and I've included a how-to video)!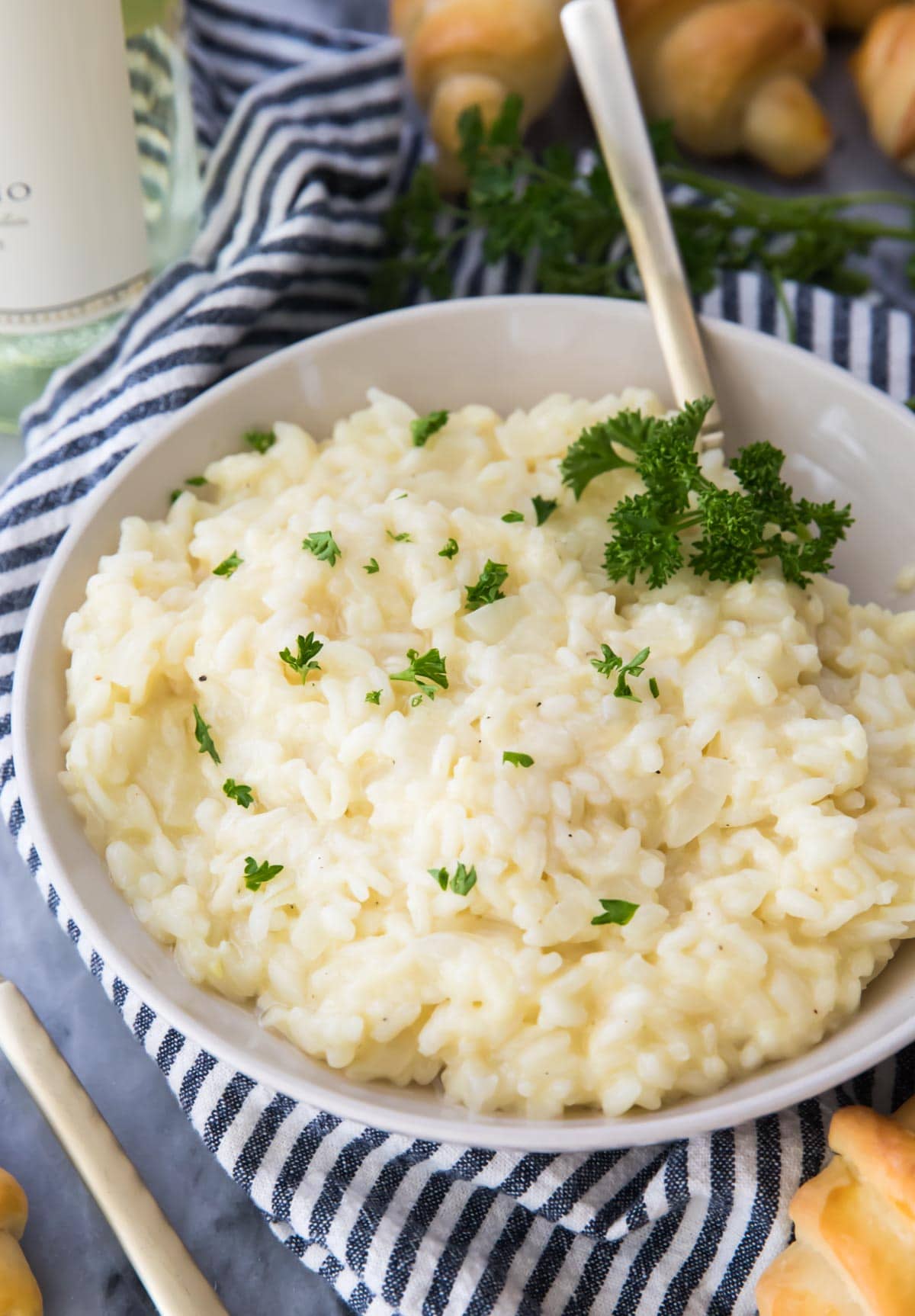 How to Make Risotto in Under 30 Minutes
Risotto has a reputation for being fussy and time-consuming, which I think is outrageously unfair. If you've ever felt that maybe you don't have the time (or worse, that you don't have the skill!) to make such an elegantly simple side dish, I'd like to clear things up for you right now.
Yes, risotto requires attention. Yes, it requires frequent stirring. However, it can absolutely be made while you're preparing your main course (or perhaps garlic knots, bruschetta, or a caprese salad). I do it all the time (we have risotto 2-3x a week here), and if my distracted self can handle that while also making sure my 1-year-old doesn't bathe in the dog's water bowl, anyone can.
So what is risotto? Well, simply put it's a rice dish made by slowly adding broth while you cook the rice. It's also:
Outrageously creamy, without being too rich.
Thick and cooked al-dente, meaning it's firm to your bite (and never mushy!).
Simple to make and ready in under 30 minutes.
Not fussy, yes any risotto recipe requires a bit of attention but is honestly difficult to mess up.
Versatile! Add garlic, your favorite veggies, or even meat or seafood to make it a full meal.
Alright, let's go over how to make risotto in under 30 minutes!
What You Need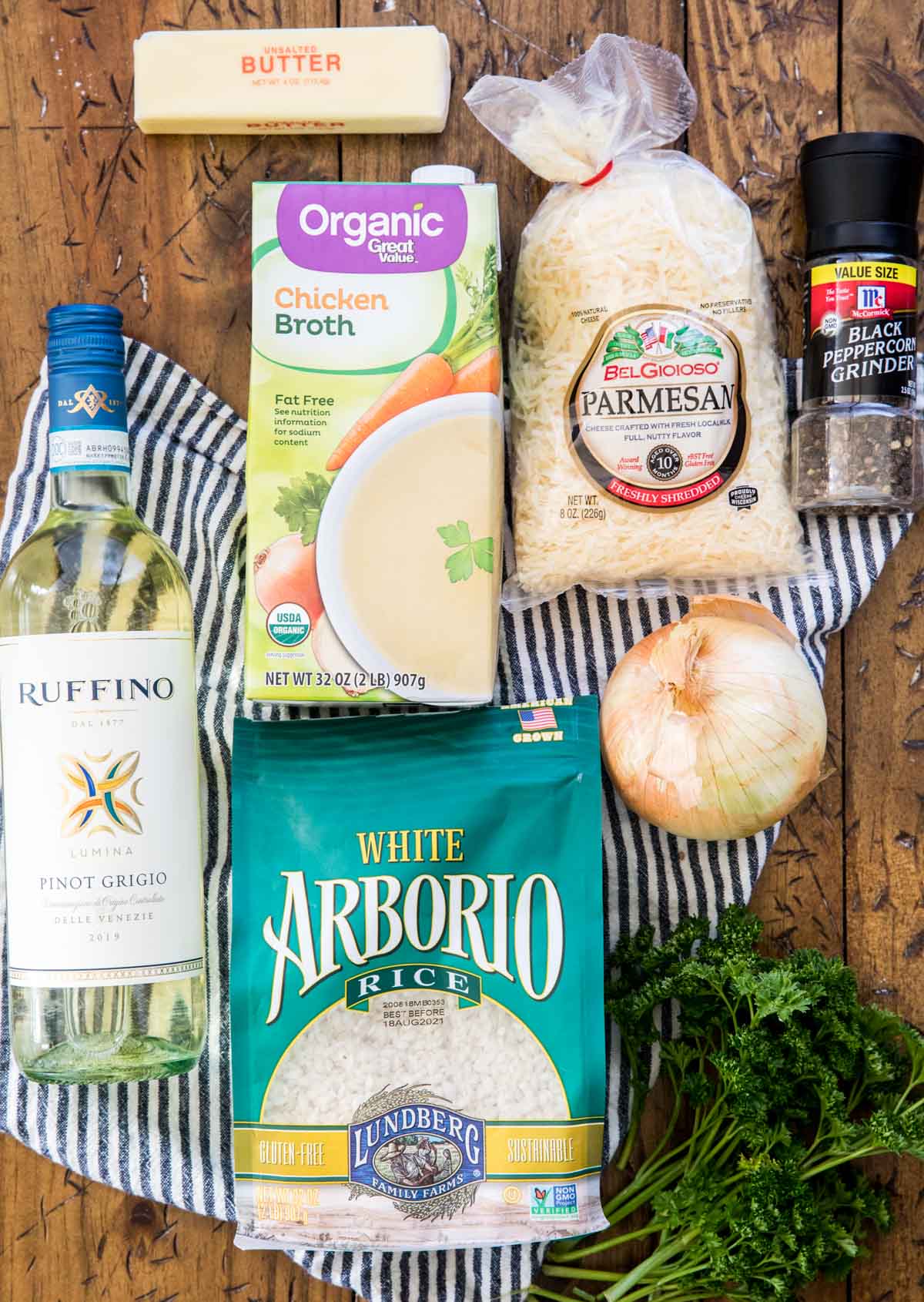 Here's what you need:
Butter. Butter works as the base of this dish, then we finish it off with additional butter for maximum flavor and creaminess. I use unsalted to best control the flavor, but it's your choice.
Onion. Yellow, white, or sweet onion will work well here. Finely chop then sauté in a bit of butter, this gives us a flavorful base for the risotto.
Arborio rice. I'm usually able to easily find this rice in my grocery store, but alternatively you could use Carnaroli or Vialone Nano rice. It's important that you choose a starchy rice, as this is what helps to give risotto its creamy texture. You can't use just any rice, it won't cook properly and you won't have the creamy texture with a firm center that's characteristic of risotto.
White wine. I use Pinot Grigio, but use your favorite white wine or you may even omit (replace with additional chicken broth).
Chicken broth. I prefer the flavor of chicken broth or stock in risotto. If you're vegetarian, vegetable broth or stock will be just fine. I use regular broth for this recipe and not low-sodium, if you use low sodium just be sure to taste test and add more salt at the end as needed.
Parmesan cheese. For best results use fresh shredded or grated parmesan. This is the traditional cheese used in risotto recipes and not only lends the additional creaminess to the dish but also flavor.
Salt & Pepper. Just a dash of salt and pepper (use freshly ground!) is usually enough to sufficiently flavor the risotto, but always taste test before serving.
Parsley. This is optional, but it adds a pop of color to the dish.
This is just an overview of the ingredients I used and why. For the full recipe (including ingredient amounts) please scroll down to the bottom of the post!
SAM'S TIP: Make it a garlic risotto! After sautéing your onion, add 2-3 cloves of minced garlic and cook, stirring, until fragrant (about 30 seconds) before proceeding with the recipe.
How to Make Risotto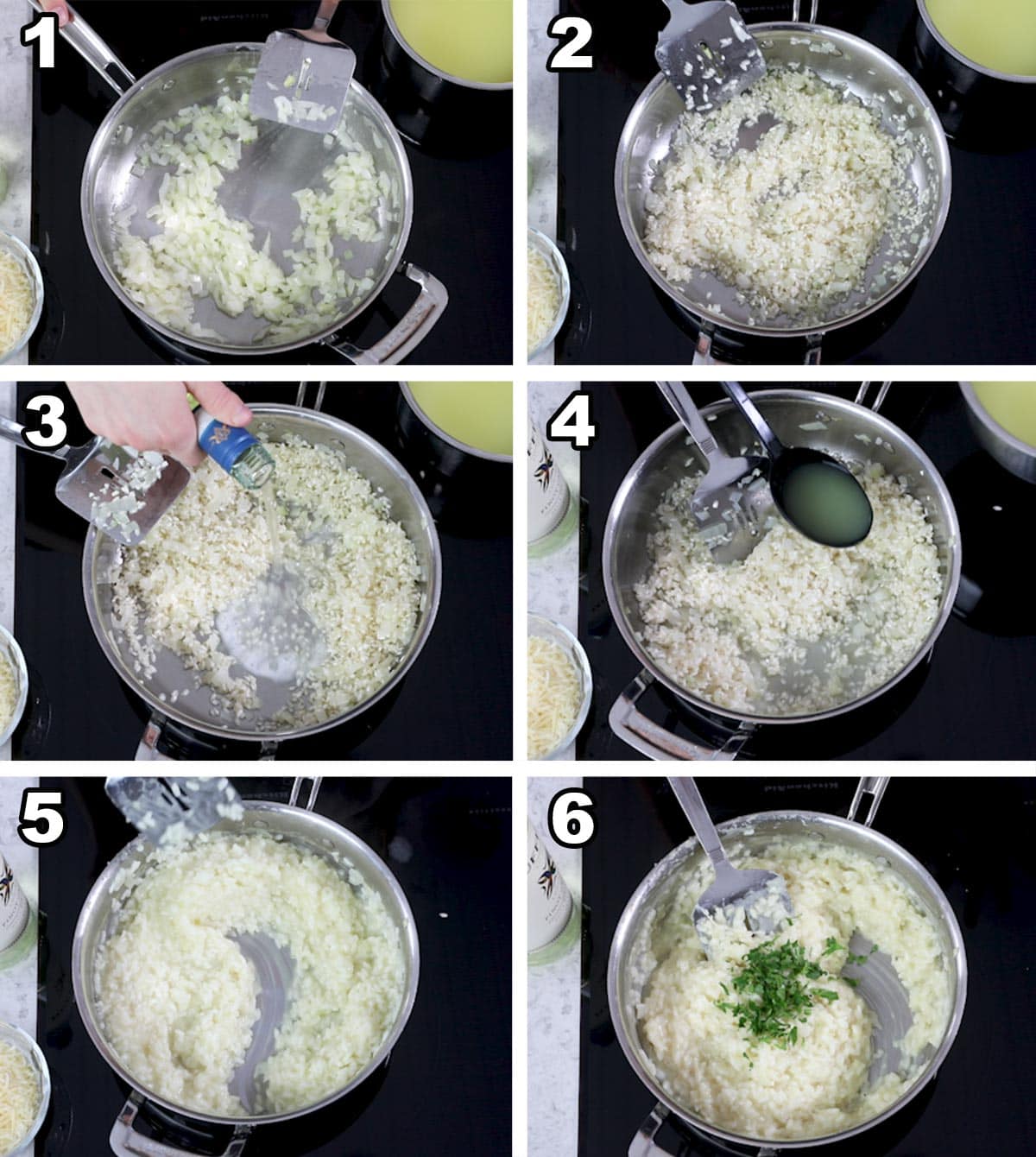 In a small or medium saucepan (it's hardly visible in the corresponding photo above, but it's there, top right corner) heat your broth over medium heat. Meanwhile, melt some of your butter in a large skillet and cook the chopped onion until softened (about 5 minutes).
Add the rice and turn with your spatula until every grain is completely coated with butter (it will be easy to tell, the grains will appear moistened rather than dry).
Drizzle the wine into the pan (if using) and cook until completely evaporated. If you sniff the steam, you shouldn't detect the sharp burn of alcohol in the back of your nose.
Add approximately ½ cup of warm chicken broth to the pan slowly and cook until absorbed. Once all the broth has been added the risotto it will be creamy, tender but firm to your bite (test it!)
Use a spatula to make sure the risotto is finished cooking. Your spatula should leave a trail, and the risotto will slowly roll back over itself, concealing the trail.
Add parmesan cheese (fresh, please!), parsley, pepper, and salt to taste. Always taste test afterwards, you may need to add more salt or pepper!
SAM'S NOTE FOR PERFECT FLAVOR: I found that between the chicken broth and parmesan cheese, there's enough salt to give the risotto a lovely flavor. However, always taste test (after adding the parmesan and butter) and add more as needed. If you use a low-sodium broth you may very well need more salt. There's too much individual variation possible for me to list a specific amount in the recipe.
Frequently Asked Questions
What can you put in a risotto?
One thing I love about risotto is that, while it's a great side dish, it can also be easily transformed into a meal in and of itself. Add garlic, mushrooms or your favorite veggies, shrimp, chicken, or scallops!
Why must the chicken broth be warmed? Can I skip this?
The hot chicken broth helps keep the cooking consistent. If you add room temperature (or worse, cold) broth to the rice, it slows the cooking process and can even cause the rice grains to become mushy. Your risotto won't cook as evenly as it ought to, and most likely will take you longer than the 30 minutes promised to make. It's not impossible to make with room temperature broth (please don't use cold) but you're less likely to have the flawless, creamy, and relatively quick results.
Why is my risotto crunchy/hard?
It is likely that you didn't add enough liquid to the rice to allow it to soften. While 4 cups of broth has always been enough for my rice to cook completely, it's possible you may need to add a splash more. With risotto, you should really test the texture as you go.
Can I make this ahead of time?
While I've personally enjoyed leftovers the next day, generally it is not recommended. Risotto becomes mushy and overdone if made in advance. If you must make it in advance, Fine Cooking recommends parcooking the rice.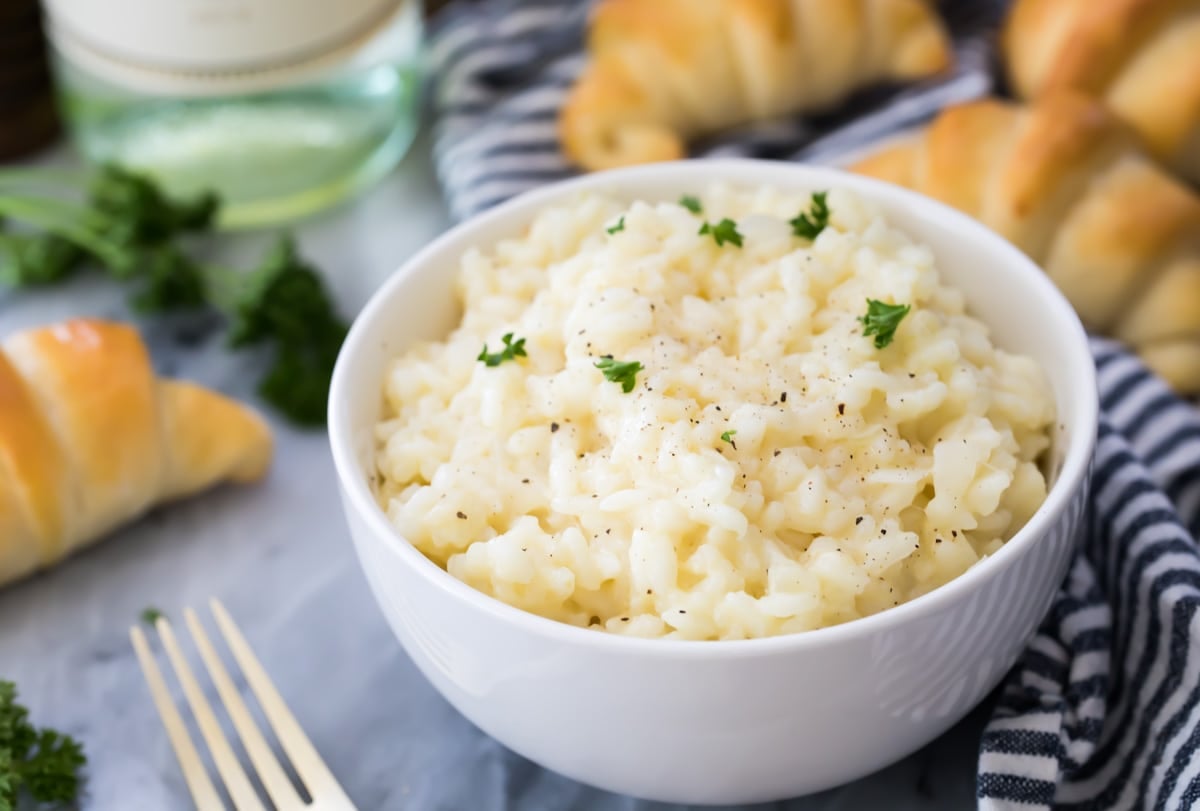 More Recipes You Might Like
Enjoy!
Let's cook together! Make sure to check out the how-to VIDEO in the recipe card!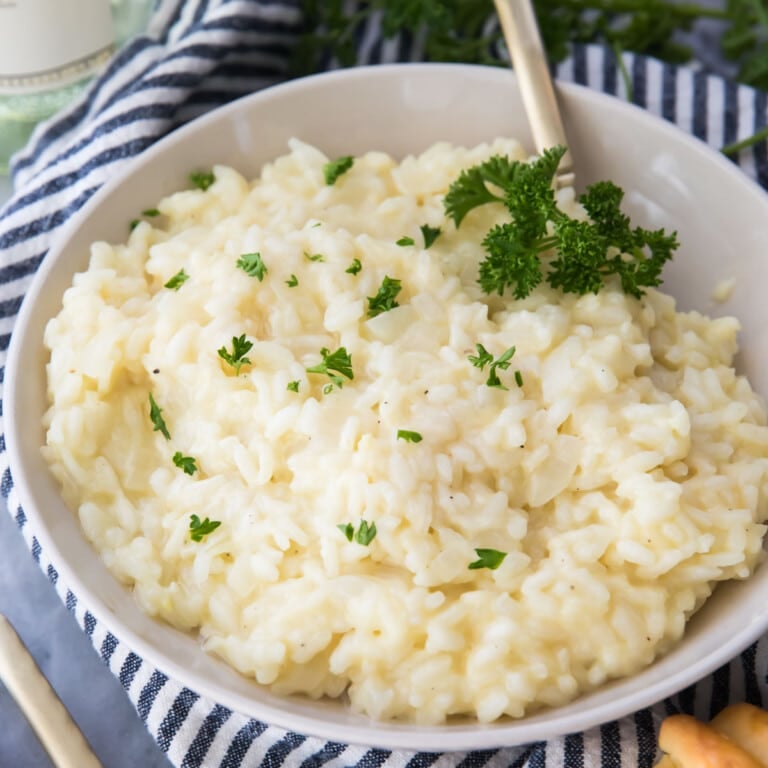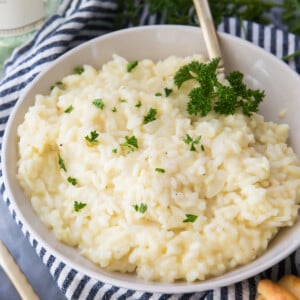 Risotto
A creamy, easy risotto recipe that's basically foolproof and ready under 30 minutes! Recipe includes a how-to video!
Print
Pin
Rate
Servings:
6
servings (¾ cup per serving)
Ingredients
4

cups

chicken broth¹

(946ml) (I do not use low-sodium, if you do you will likely have to add more salt at the end)

4

Tablespoons

unsalted butter

divided (57g)

1

heaping cup

Arborio rice²

(200g)

¼

cup

white wine³

(60ml) (optional, see note)

1

medium

yellow or sweet onion, finely chopped

about 1 heaping cup (160g)

1

cup

fresh shredded parmesan cheese

(95g)

1

Tablespoon

fresh parsley

finely chopped, optional

¼

teaspoon

freshly ground black pepper

plus additional to taste, as needed

salt

to taste
Instructions
Pour chicken broth into a medium-sized saucepan and place over medium-low heat. You want this to be warm and stay warm while you are preparing the risotto.

In a (separate) large skillet, melt 3 Tablespoons of butter over medium heat. Once melted, add onion and cook, stirring frequently, until softened (about 3-5 minutes).

4 Tablespoons unsalted butter,

1 medium yellow or sweet onion, finely chopped

Add rice and use a spatula to turn until all of the rice is coated with butter (none of the grains should appear dry). Cook another minute or two, stirring, until you can smell the fragrance of lightly toasted rice.

1 heaping cup Arborio rice²

Drizzle wine into pan and cook, stirring, until all wine is evaporated (there shouldn't be any liquid in the bottom of the pan and you shouldn't be able to smell the fragrance of the wine in the steam anymore).

Add about ⅓-½ cup of warm chicken broth and stir frequently. Once the broth has been cooked out, repeat with additional wine and repeat until you have added all of the broth or rice is al-dente (cooked through but still firm to-the-tooth). You may need more liquid, if so use more broth or simply warm water.

Once rice is cooked and rolls back in on itself when you slide through the saucepan with a spatula, it is finished cooking. Remove from the heat at once and add the remaining Tablespoon of butter, parmesan cheese, and parsley.

1 cup fresh shredded parmesan cheese,

1 Tablespoon fresh parsley

Stir until butter and cheese are melted, taste and add more pepper and salt if needed. Serve immediately, as risotto does not keep well and storing is not recommended.

¼ teaspoon freshly ground black pepper,

salt
Notes
¹Broth:
I prefer chicken broth for the flavor, but you may make this vegetarian by using vegetable stock/broth instead. I use regular broth, not low-sodium. If you opt for low-sodium you will most likely need to add more salt. 
²Rice:
You must use a starchy rice, preferably a short-medium grain. Arborio seems to be the most widely available, but Carnaroli or Vialone Nano will work as well. I don't recommend other types of rice as they won't cook properly or result in the creamy risotto you want!
³Wine:
I use Pinot Grigio. You may use your favorite white wine or simply omit (you may need a bit more broth) if you do not have any or would not like to use it.
Nutrition
Serving:
1
serving
|
Calories:
157
kcal
|
Carbohydrates:
3
g
|
Protein:
7
g
|
Fat:
12
g
|
Saturated Fat:
8
g
|
Trans Fat:
1
g
|
Cholesterol:
31
mg
|
Sodium:
843
mg
|
Potassium:
182
mg
|
Fiber:
1
g
|
Sugar:
1
g
|
Vitamin A:
424
IU
|
Vitamin C:
13
mg
|
Calcium:
215
mg
|
Iron:
1
mg
Nutritional information is based on third-party calculations and should be considered an estimate only. Actual nutritional content will vary based upon brands used, measuring methods, cooking method, portion sizes, and more.