Galaxy Cookies: Star shaped cutout cookies with a galaxy glaze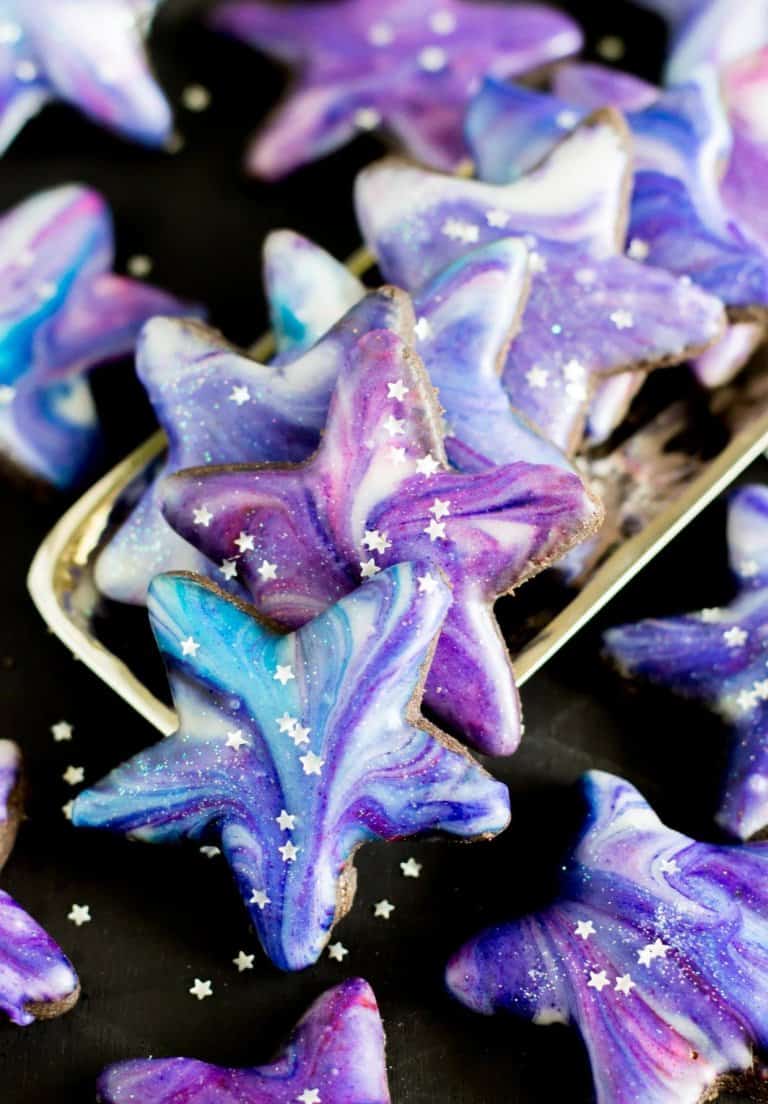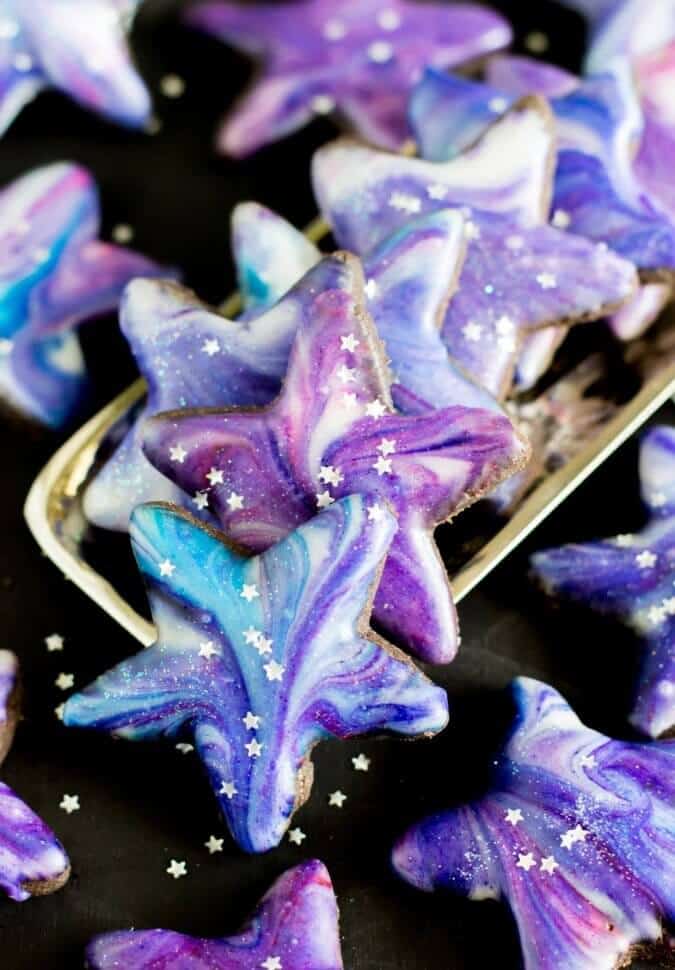 It's taken me every ounce of self restraint with these cookies to not say something super cheesy like "they're outta this world".  Because, while they totally, absolutely are, you don't need cute quips to inform you of that, do you?  These cookies make their own statements, and none of them are mundane.
I've been seeing some pretty incredible galaxy desserts all over the internet recently, and wanted to offer up my own spin on these out of this world desserts.  They're not difficult to make, but there are quite a few steps involved, so let's get started.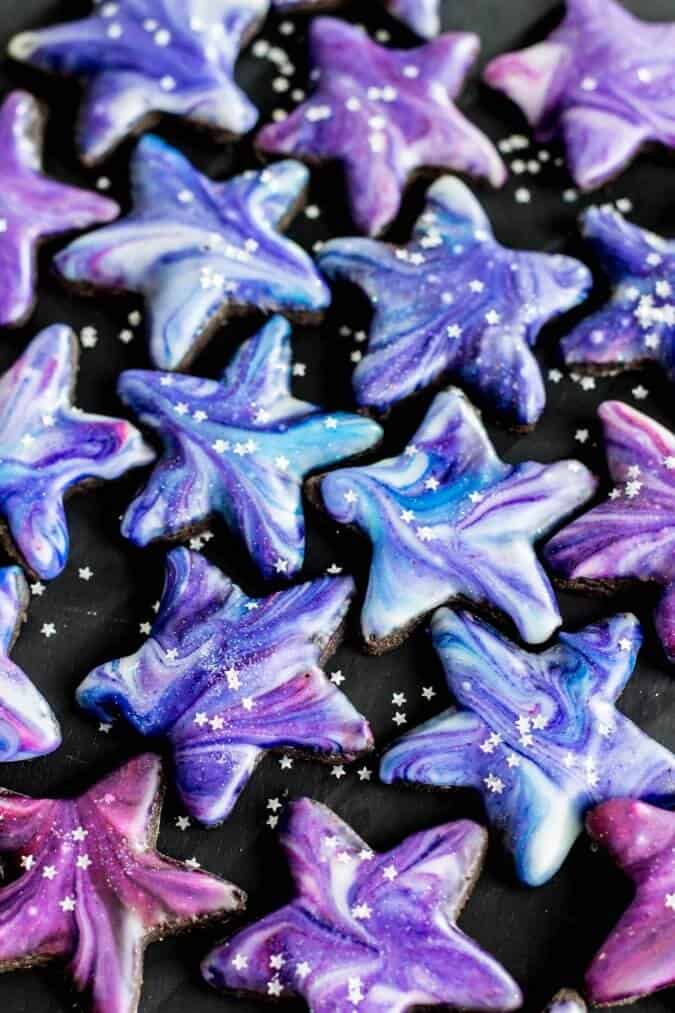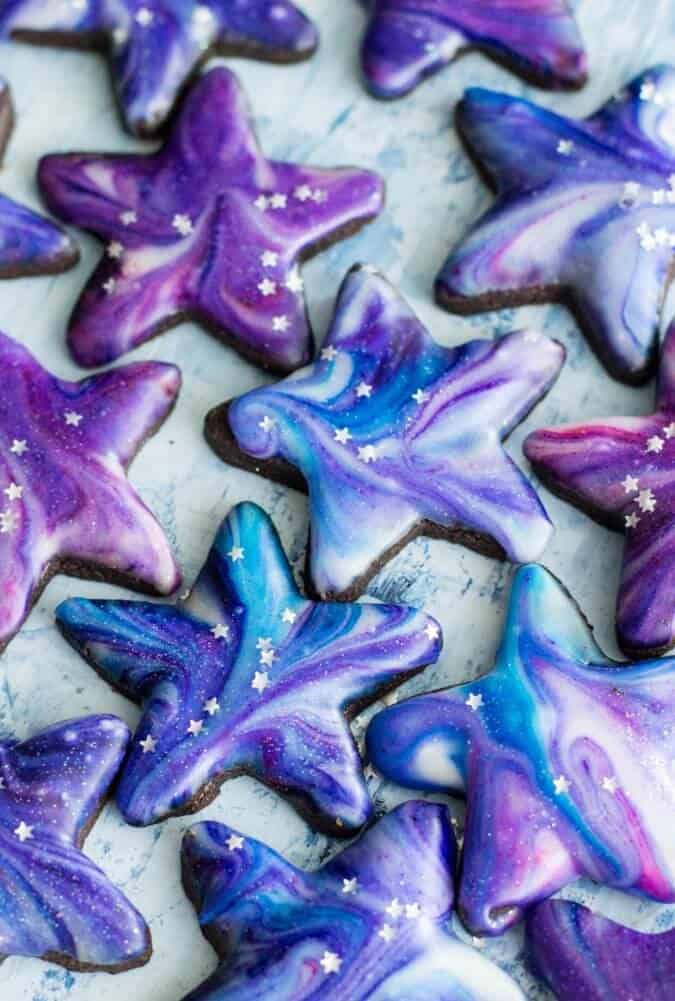 The patterns and whorls of these galaxy cookies look complex and intricate, but the process for making them is actually really, really simple.
Use a toothpick to dab bright pink, blue, and purple food coloring into a simple vanilla glaze, and then drag the toothpick around the surface until the swirls look spacey enough.  You literally cannot mess this step up — every slip of the toothpick just makes things more interesting (just… don't over stir or all the colors will run together).
Then dip the face of each cutout cookie into the surface of the glaze until it is completely coated, remove, and allow it to set on a cookie sheet until hardened.  I've said this before, but for a person with as little patience as me this is completely true — the hardest part is waiting.
I let my cookies set overnight so I know the glaze is fully set, but you can wait as little as 30 minutes if you don't mind slightly soft glaze.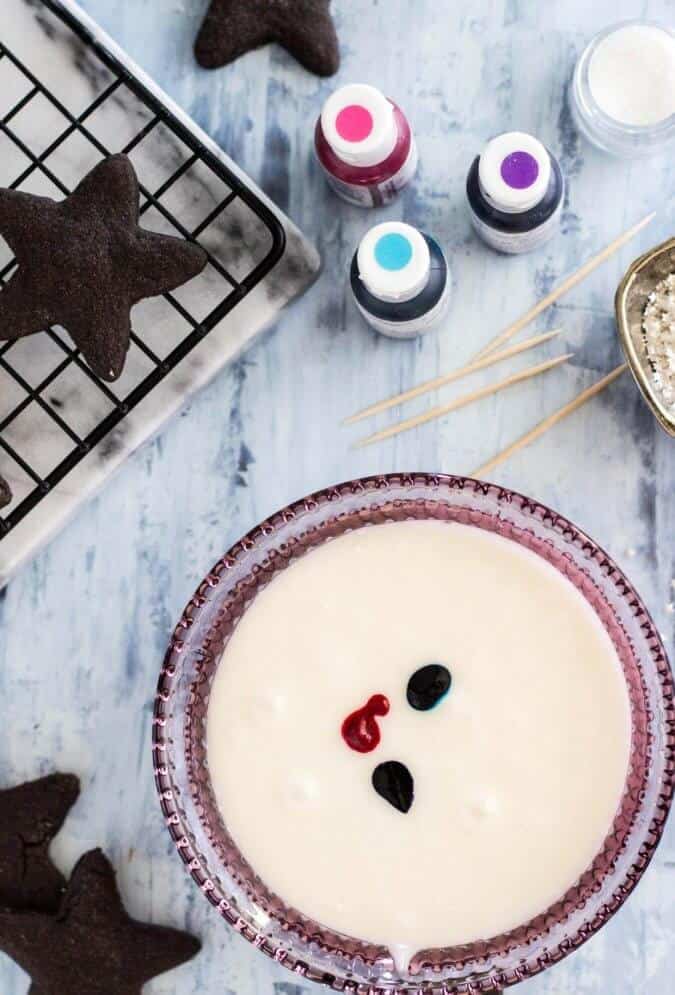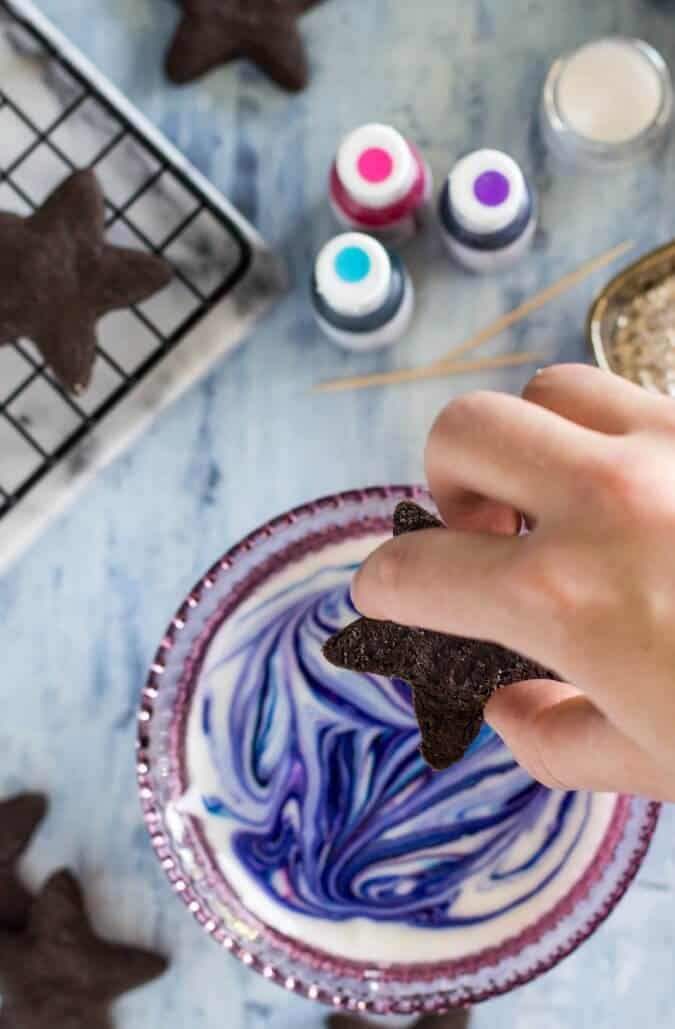 There are some important notes about these cookies that I want to make; be sure to go over these before you begin.  They are simple tips that will make this process even easier:
Choose an extract that you really like to flavor the glaze.  I found simply using vanilla to be too plain and it left too much space for that bitter food coloring flavor.  I recommend using half a teaspoon of vanilla and then ¼-1/2 teaspoon of an extract of your choice.  My favorite is almond, but I think mint or coconut would also be delicious.  Taste test before swirling and dipping!
The less food coloring the better.  The more white glaze you have swirled in, also the better.  Food coloring has a pretty pungent flavor.  Use gel colorings for the most vibrant color, and dip a clean toothpick into the well of each and then into glaze.  Repeatedly if needed.  This allows you more control than just squirting the coloring directly into the bowl.
Food coloring stains everything!  Any porous surface it comes into contact with — wood, plastic, skin.  I always lay out a sheet of wax paper to protect the surface I'm working on from becoming permanently stained.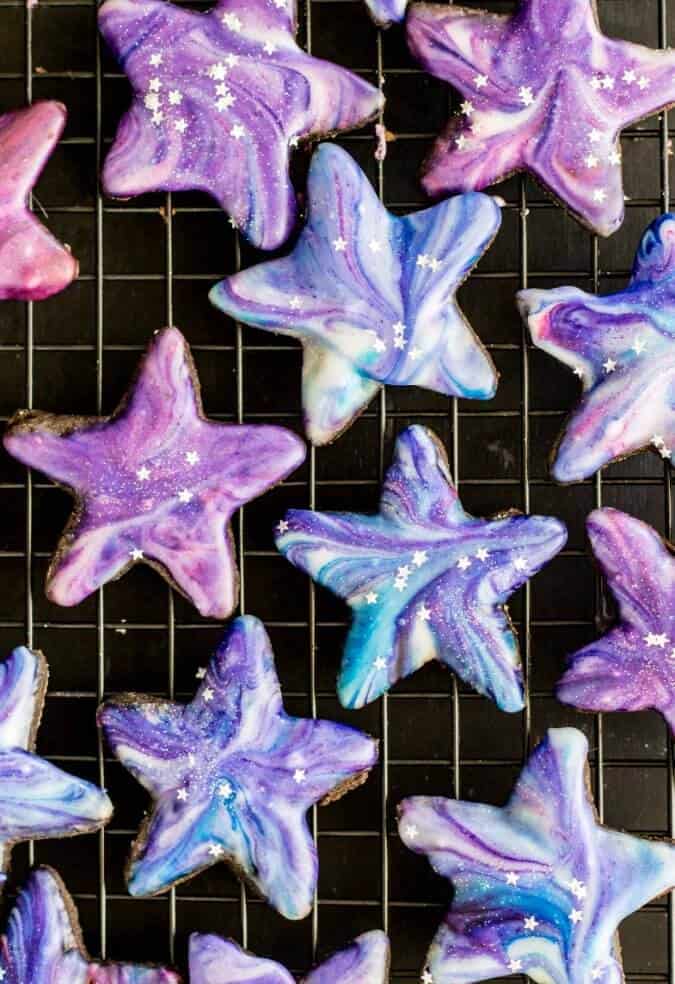 I used dark chocolate cocoa powder to color these cookies nice and dark (you know, like the night sky…) without any additional food coloring.  They don't have a very strong chocolate taste to them, though, and you can easily substitute regular cocoa powder or use this (non-chocolate) cutout cookie recipe to use as your base instead.
Enjoy!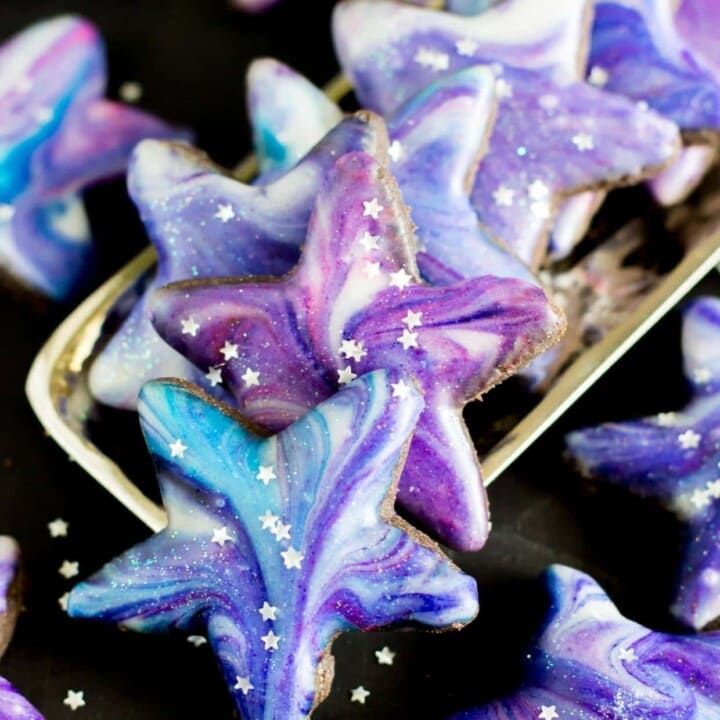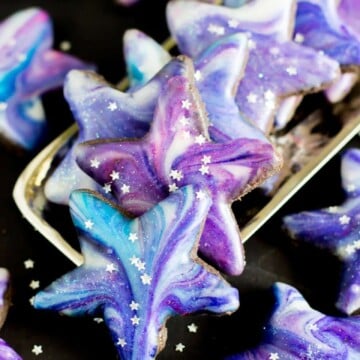 Galaxy Cookies
Sparkly Galaxy Cookies made with a simple sugar glaze and chocolate cutout cookies. You will need: 1 star-shaped cookie cutter Vibrant pink, purple, and blue gel food coloring Optional (affiliate links):
Disco dust
Star shaped sprinkles
Print
Pin
Rate
Ingredients
Galaxy Glaze
3

cups

powdered sugar

sifted (375g)

3-4

Tbsp

milk

3

Tbsp

light corn syrup

½

tsp

vanilla

¼

tsp

almond extract

or your preferred flavoring

gel food coloring

pink, blue, and purple
Instructions
Cookies
In stand mixer fitted with paddle attachment, cream butter.

Add granulated sugar and beat until light and fluffy.

Add vanilla and stir well.

Stir in lightly beaten egg yolk. Scrape down sides of bowl as needed to evenly incorporate all ingredients.

In separate bowl, combine flour, cocoa powder and salt.

With mixer on medium-low speed, gradually add flour until well-incorporated (you will definitely need to scrape down the sides and the bottom of the bowl several times for this, as the mixture is fairly dry and crumbs tend to settle at the bottom of the bowl).

Transfer dough to clean surface and use your hands to form it into a cohesive ball.

Flatten into a disk (about 1" thick), cover with clear wrap, and chill for 30 minutes.

Preheat oven to 350F and line cookie sheet with parchment paper.

Once dough has chilled, transfer it to a clean, lightly floured surface and use a lightly floured rolling pin to roll out to about ¼" thickness.

Lightly flour your star cookie cutters and cut out your shapes, transferring them to ungreased cookie sheet.

Once you have cut out all of the shapes that you can, be sure to re-combine the scraps and roll out and cut out again to get the maximum number of cookies from your dough.

Bake on 350F for 10-12 minutes (longer if you are using larger cookie cutters) and allow cookies to cool completely before dipping
Glaze
In a large bowl, combine sifted powdered sugar, 3 Tbsp milk, and light corn syrup. Whisk until smooth. If mixture is too dry, add additional milk, one teaspoon at a time until mixture can be stirred.

Stir in extracts (be sure to taste test to ensure you are happy with the flavor!)

Glaze should be thick, to test that it is the right consistency drop a few droplets on top of a test cookie. If the glaze remains stiff, it needs to be thinned. If it runs off the cookie, it is too thin and needs more powdered sugar. If it settles down smoothly, it is just right.

Divide glaze into four small bowls.

Working with one bowl at a time, use a toothpick (a different toothpick for each color) and dip it into the food coloring bottle and then into the glaze. You want a small pool of food coloring about the size of a mini chocolate chip or two.

Drag a toothpick through the food coloring and glaze until it is prettily swirled (like a galaxy).

Holding your cookie at the base, dip the surface of each cookie into the glaze (take a look at your first cookie -- are you satisfied with the pattern? Adjust whorls with additional food coloring as needed).

Optional: Before glaze can harden, immediately after dipping sprinkle cookies with disco dust and silver stars. These make them look extra pretty but are not required for stunning cookies.

Once the first bowl runs out or the colors become too muddled together from dipping, move onto your next bowl of food coloring (you will probably need to stir as the surface may have begun to harden).

Repeat steps 5-7 until all cookies have been dipped. Allow them to harden at least 30 minutes (may take longer) for glaze to set. Enjoy!

Keep uneaten cookies in an airtight container at room temperature.
Nutrition
Serving:
1
cookie
|
Calories:
78
kcal
|
Carbohydrates:
12
g
|
Protein:
1
g
|
Fat:
3
g
|
Saturated Fat:
2
g
|
Cholesterol:
8
mg
|
Sodium:
21
mg
|
Potassium:
6
mg
|
Fiber:
1
g
|
Sugar:
9
g
|
Vitamin A:
96
IU
|
Calcium:
2
mg
|
Iron:
1
mg
Nutritional information is based on third-party calculations and should be considered an estimate only. Actual nutritional content will vary based upon brands used, measuring methods, cooking method, portion sizes, and more.
Recommended Items:

This post may contain affiliate links, which means that if you purchase anything through these links I will get a small commission at no extra cost to you.  Please view the disclosure policy for more information.
PIN IT:

You Might Also Like:
Chocolate Covered Sprinkle Cookies