How to make the BEST Guacamole recipe in just 5 minutes! Recipe includes tips for choosing the best avocados and hints for the best flavor!
I know there's been a lot of green on the site recently, but there's something about summertime that makes me want to share fresh, no-oven-required recipes that use up fresh produce. I promise I have plenty more sweet recipes coming your way later this week, but humor me because it's about time I shared my favorite ever guacamole recipe with you.
After sharing my avocado salsa last week, I received a few emails asking if it could be turned into guacamole. While you could, the ratios of veggies used won't yield you the best possible results. I've been making guac this way for a while, so I'm not sure what took me so long to share this recipe with you.
I think this one is sure to join the ranks of other savory favorites (you've made my homemade salsa recipe, right???), so let's get to it.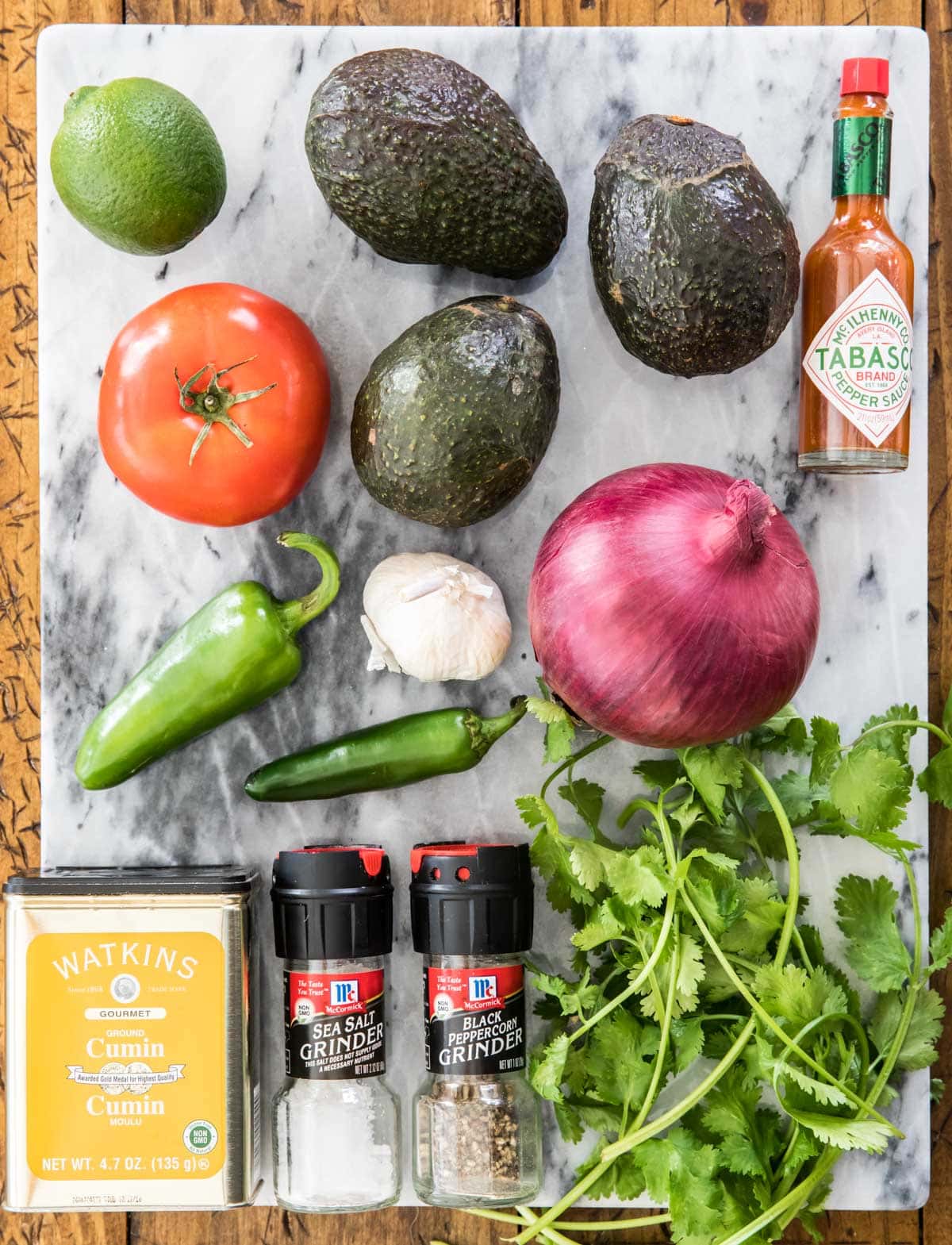 Ingredients:
Avocado: It's important that you select a ripe avocado, that way the flavor is best and it's easy (/possible) to properly mash.
Red onion. You may substitute a white onion, but I like the extra kick of flavor of red.
Jalapeno. You can adjust this according to how hot you like yours! I find a single jalapeno pepper is usually plenty for me. For extra heat, you can add a few (really, just a few!) seeds, but do so sparingly. Start with just the amount of jalapeno listed in the recipe and then add more to taste.
Garlic. I prefer using fresh garlic to powdered in this recipe. The flavor is fresher and is enhanced as it's mashed along with the avocado. I'm a garlic fiend, so I always use the largest clove I can find.
Cilantro. In my opinion, cilantro is a must, but I know not everyone can tolerate the taste (I find it fascinating that it tastes like soap to some people… I'm a verified "super taster" and like it very much!). If you can't stand it, just leave it out.
Tomato. Not all guacamole recipes use tomato and you may omit if you'd like, but I like the extra flavor. Scrape the seeds from the tomato (so it doesn't water down your guac) and add the tomatoes last. They don't mash as well as the avocados, so save them for mixing in at the end! Roma is the most commonly used variety, but you can substitute whatever you have on hand.
Lime juice. Use fresh lime if at all possible! Start with the juice of half of a lime and then add more to taste. The lime juice also helps to inhibit browning of the avocados.
Spices. I list amounts of (sea) salt, pepper, cumin (a must!), and Tabasco sauce (/hot sauce) in the recipe, but these are starting points and I recommend you taste testing and adjusting to your own taste. Once you can't stop chip-dipping, you're there 😉
As always, this is just an overview of the ingredients used and why, for full recipe with amounts of each ingredient please scroll down to the recipe card.
How to Pick a Ripe Avocado (The Nose Test!)
Choosing a ripe avocado can be tricky, but it's so important for the best guacamole. I like to use the nose test, which might earn you some looks at a produce stand or the grocery store but has always been accurate for me. For this test, gently poke the tip of your nose from the bottom with your index finger. Then gently poke your avocado the same way. A ripe avocado should feel the same as your nose. I demonstrate this in my video, in case you're wondering how ridiculous I look when I go grocery shopping (but it's worth it!).
Another way to tell if an avocado is ripe is to pop off the stem and check the color underneath. If the stem is easy to remove and is "medium-green" in color (bright yellow-green would be underripe and brown would be overripe), that's a good indicator that it's ripe.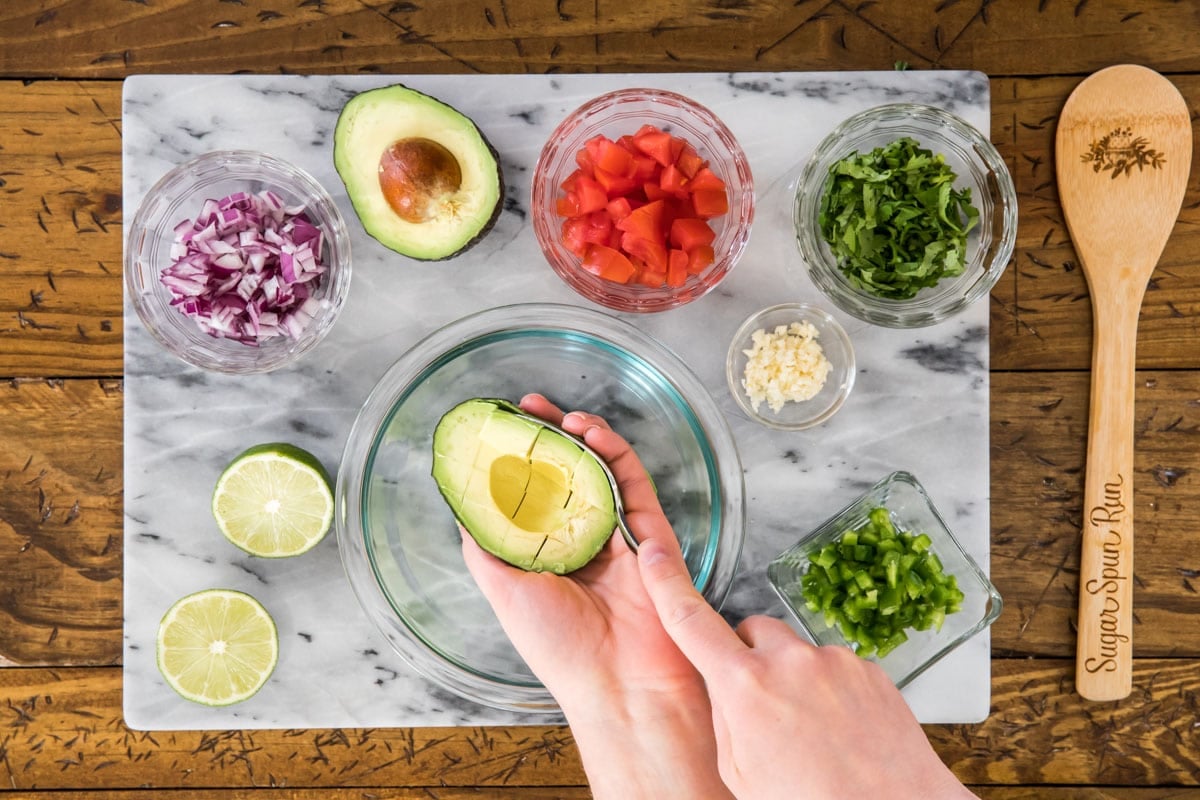 How to Cut an Avocado
Slice the avocado in half lengthwise (not slicing through the pit, you won't be able to do that).
Twist to separate the two halves.
To remove the pit, place the avocado on your cutting board and firmly smack the blade of a sharp knife into the pit (keep your hand away), twist to remove, and then use a towel to remove the pit from your knife. Be careful to not cut yourself!
Score the avocado with a sharp knife into pieces of your preferred size, then use a spoon to scoop into a bowl (see photo above).
I demonstrate this process in the video that I've shared in the recipe card (and on YouTube, you follow me there, right? 🙃)
How to Make Guacamole
Cut your avocados and place in a medium or large bowl, then squeeze fresh lime juice over top and toss (to help inhibit browning).
Prepare veggies by chopping into small pieces.
Add all ingredients except for tomatoes (I don't like to mash my tomatoes).
Mash with a fork or potato masher until well-combined. Mashing the avocado along with the other ingredients helps to really bring out the flavors of all of the ingredients, making for the best tasting guacamole ever.
Stir in tomatoes.
Taste test with salty tortilla chips and add more spices or lime juice as desired!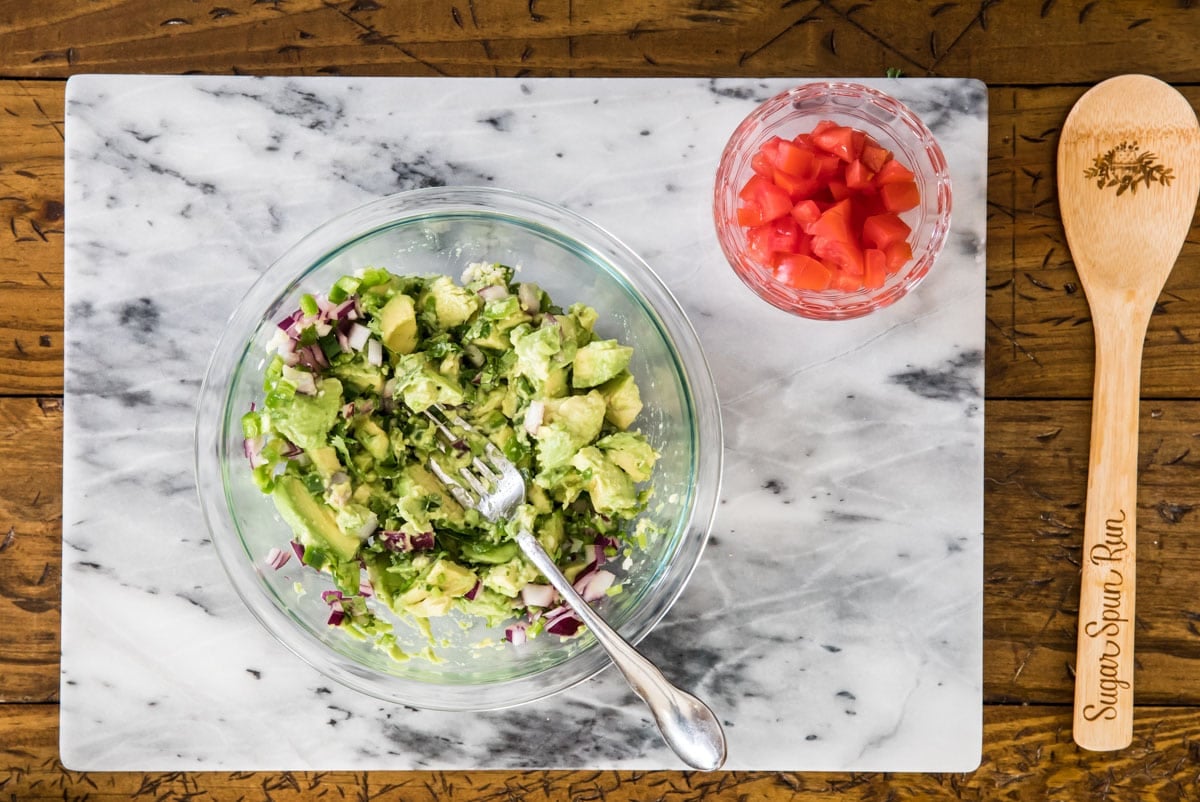 How to Store Guacamole
Guacamole is best served fresh, preferably within several hours of making. Even though the lime juice helps to inhibit the browning, avocados are still going to do their thing and turn brown in time. I recommend serving within 48 hours, but some browning may even occur before then.
The best way to store is to place a piece of plastic wrap directly against the surface of the guacamole (this helps keep the air from reaching it, and air speeds up the browning).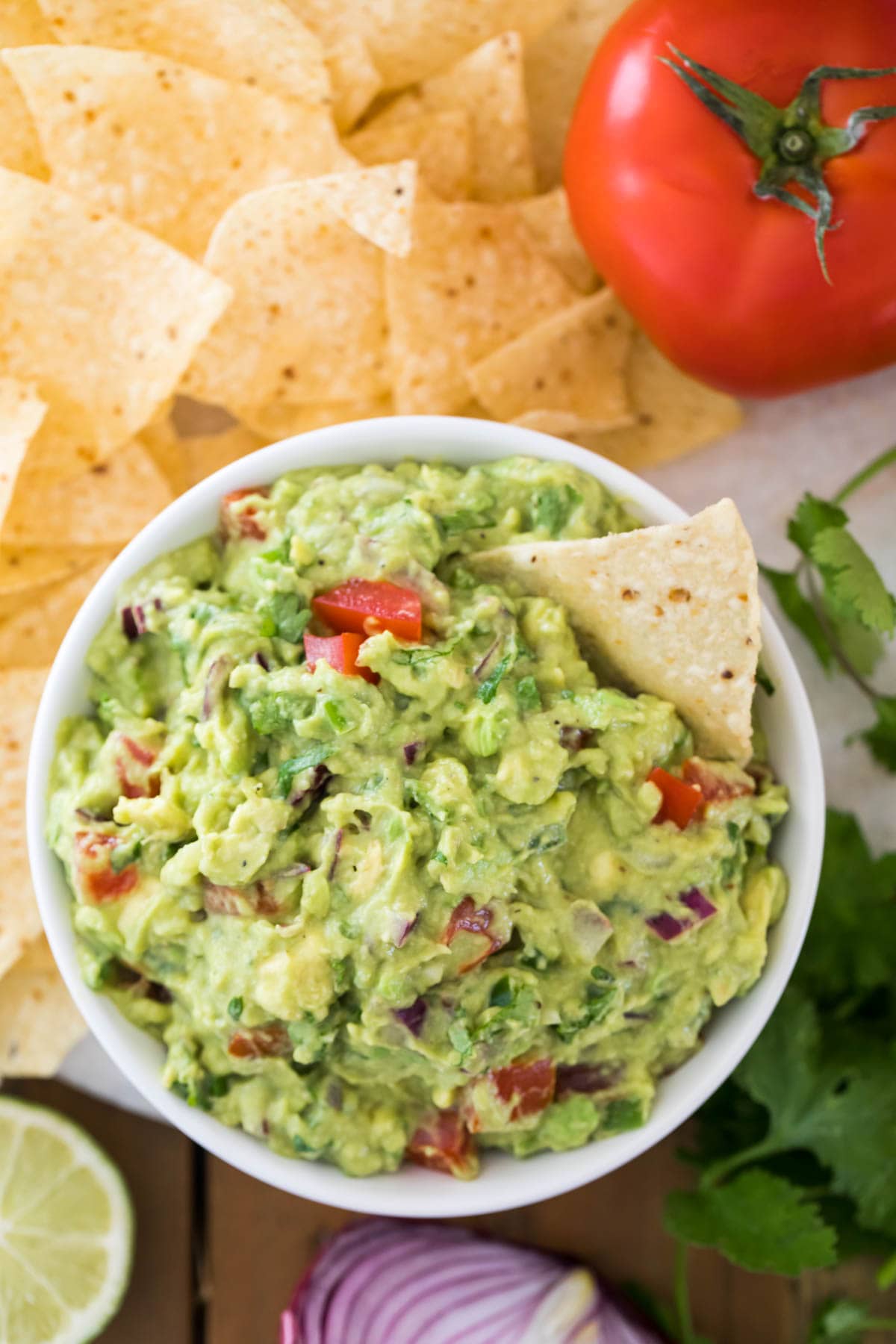 More Recipes to Try:
Enjoy!
Join me in the kitchen! Don't forget to watch the how-to VIDEO in the recipe card! If you try this recipe, please leave me a comment and let me know what you think!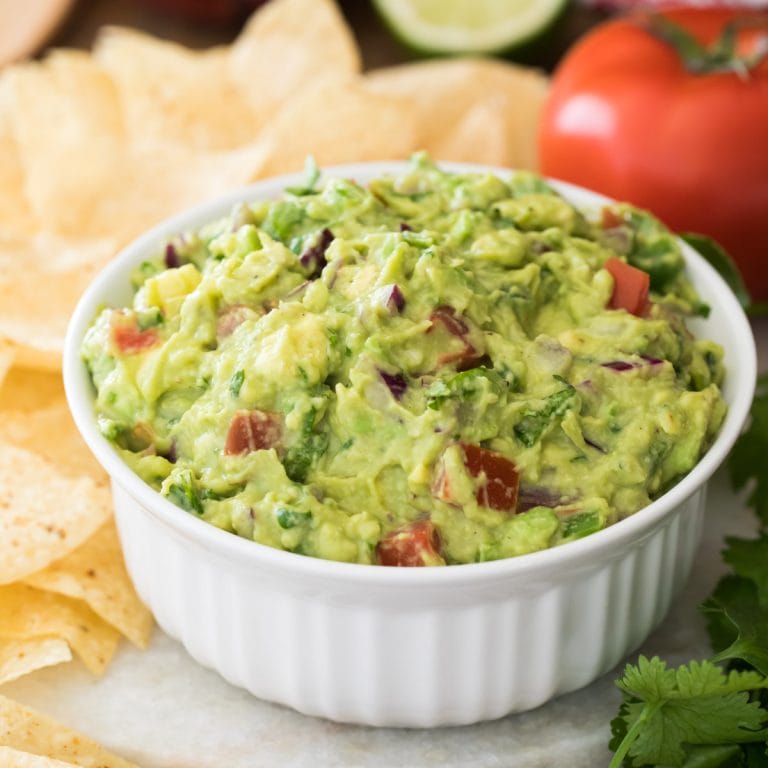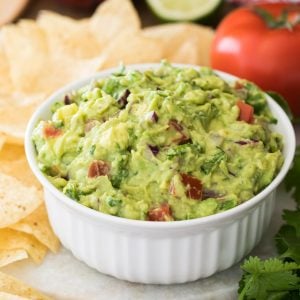 The BEST Guacamole Recipe
How to make the BEST Guacamole recipe in just 5 minutes! Recipe includes tips for choosing the best avocados and hints for the best flavor! Be sure to watch the how-to VIDEO!
Print
Pin
Rate
Ingredients
3

ripe avocados

diced (see post or video for instructions on how to cut)

1-3

Tablespoons

freshly-squeezed lime juice

I'm usually able to get all the juice I need from a single lime

⅓

cup

finely diced red onion

(45g)

3

Tablespoons

finely chopped jalapeno

remove seeds, this is usually one jalapeno for me but will vary depending on the size of your peppers

3

Tablespoons

finely chopped cilantro

(15g)

1

large clove minced garlic

about 1 ½ teaspoons

½

teaspoon

finely ground sea salt

plus more to taste as needed (if using table salt you will need less, start with a heaping ¼ teaspoon)

¼

teaspoon

freshly cracked black pepper

plus more to taste as needed

¼

teaspoon

ground cumin

3

dashes

hot sauce

I use Tabasco sauce, plus more to taste as needed

½

cup

chopped roma tomato

seeds scooped out and discarded (90g)

Salty tortilla chips

for serving
Instructions
Place avocado in a medium or large sized bowl and squeeze one Tablespoon of lime juice overtop, gently toss to coat.

Add remaining ingredients except for tomato.

Use a fork or a potato masher to mash to desired consistency. Stir in tomato.

Taste test with tortilla chips, add more lime juice, salt, pepper, cumin, or hot sauce as needed, until you can't stop eating.
Notes
This recipe may be doubled or tripled.
Storing:
Store in the refrigerator with a piece of plastic wrap pressed directly against the surface of the guacamole. For best results enjoy sooner rather than later, within 48 hours.
Nutrition
Serving:
1
serving (does not include tortilla chips)
|
Calories:
172
kcal
|
Carbohydrates:
11
g
|
Protein:
2
g
|
Fat:
15
g
|
Saturated Fat:
2
g
|
Sodium:
204
mg
|
Potassium:
566
mg
|
Fiber:
7
g
|
Sugar:
2
g
|
Vitamin A:
405
IU
|
Vitamin C:
23
mg
|
Calcium:
16
mg
|
Iron:
1
mg
Nutritional information is based on third-party calculations and should be considered an estimate only. Actual nutritional content will vary based upon brands used, measuring methods, cooking method, portion sizes, and more.