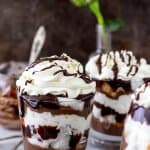 Print
Heaven & Hell Trifles
Light and airy, but decadently rich. Fluffy and sweet vanilla cream and angel food cake layered with triple-chocolate pudding and ribbons of dark chocolate ganache, these contradictory Heaven & Hell trifles are the perfect dichotomy and everything you could ever want in a dessert.
Prep Time
1
hour
30
minutes
Total Time
1
hour
30
minutes
Triple Chocolate Pudding
1 1/4

cup

sugar

1/4

cup

Rodelle Gourmet Baking Cocoa Powder

2

Tbsp

corn starch

1/4

tsp

salt

5

large egg yolks

2

cups

milk

1 1/4

cup

heavy cream

2

oz

semisweet or dark chocolate

finely chopped

2

Tablespons

salted butter

cut into small pieces

1

tsp

Rodelle Organic Chocolate Extract
Vanilla Whipped Cream
2

cups

heavy cream

cold

1/3

cup

powdered sugar

1 1/2

tsp

Rodelle Vanilla Paste
Chocolate Sauce
2

cups

semisweet chocolate chips

1

cup

heavy cream

1/2

tsp

Rodelle Gourmet Vanilla Extract
Vanilla Whipped Cream
2

cups

heavy cream

1/3

cup

powdered sugar

1 1/2

tsp

Rodelle Vanilla Paste
Pudding
Will need to chill at least 4-6 hours before serving.

In medium saucepan, whisk together sugar, cocoa powder, cornstarch and salt.

Add egg yolks, milk, and heavy cream.

Transfer saucepan to stovetop over medium-high heat and whisk ingredients together.

Whisk ingredients continuously on Medium-high heat until mixture begin to thicken -- as soon as mixture begins to bubble (begins to come to a boil), remove from heat and stir in finely chopped chocolate and butter.

Whisk until ingredients are smooth and the chocolate and butter are completely melted.

Allow to set for five minutes then stir in chocolate extract.

Pour through a fine-mesh strainer into a large, heatproof bowl and allow to cool for 10 minutes.

Cover the chocolate with clear wrap. Be sure to lay the clear wrap so that it is in direct contact with the surface of the pudding to prevent a skin from forming. Allow chocolate pudding to cool to room temperature (or at least for 30 minutes) before transferring to refrigerator to chill for 4-6 hours.
Whipped Cream
In a stand mixer with a whisk attachment (or using a hand mixer and a large bowl), whisk together heavy cream, powdered sugar, and vanilla paste on medium-high speed until stiff peaks form.

Pour into a large pastry bag fitted with a star tip (or you may also use a large Ziploc bag with a corner snipped off -- this will be less decorative).

Set aside.
Chocolate Ganache
Prepare ganache by combining chocolate and heavy cream in a small saucepan.

Melt, stirring frequently, over medium-low heat until chocolate is completely melted and mixture is smooth. Remove from heat and set aside -- allow to cool at least 10-15 minutes before using in trifle.

Prepare Angel Food Cake for trifle by cutting into slices and then cutting or tearing into bite-sized pieces.
Assembly
Spoon an even layer of pudding into the bottom of each glass (about 1/2" deep).

Cover with a layer of Angel Food Cake pieces

Generously drizzle ganache over cake.

Pipe a layer of whipped cream over ganache.

Top with another (slightly thinner) layer of chocolate pudding.

Repeat with another layer of angel food cake, then ganache and then top generously with whipped cream.

Drizzle with remaining ganache, if desired.