Inspired by the popular St. Patrick's Day's shot, this no-bake trifle is layered with a Jameson-infused chocolate filling, Bailey's whipped cream, and a Guinness caramel sauce.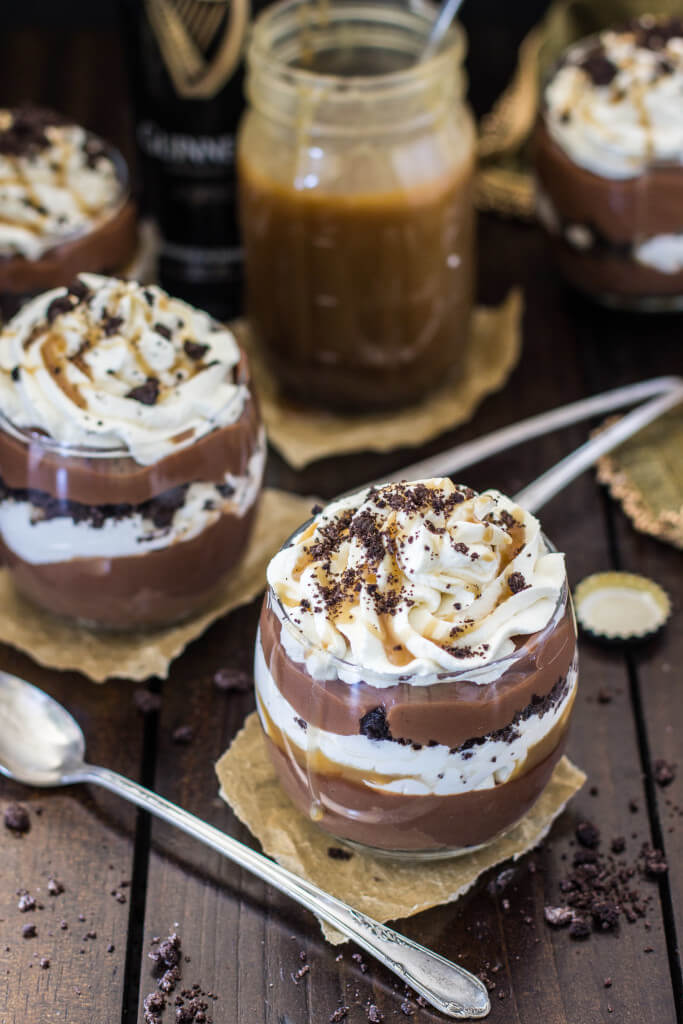 I'm not much of a drinker.  I do enjoy a good, sweet/fruity wine (Moscato, preferably) and gravitate towards the girliest of cocktails (Bay Breeze, anyone?), but most days I prefer plain old water to imbibing.
However, my best friend's birthday (Hi Cait!) happens to fall on St. Patrick's Day, and Zach's birthday is just 2 days earlier, so we usually end up doing a sort of joint celebration.  St. Patrick's day seems to necessitate a boozy beverage or two, and the past several birthdays since we all turned 21 have been spent barhopping through Fell's Point (Baltimore).  And for Zach and Cait, St. Patrick's Day in Fell's would not be complete without one or two classic Irish Car Bombs.
If you're not familiar with an Irish Car Bomb shot, they're creative little shots made by dropping a shot of Bailey's and a shot of Jameson into a tall glass of Guinness beer and then chugging it. The Bailey's bubbles up in the Guinness (like an explosion) and from this and the Irish nature of the liquors and beer used, the "Irish Car Bomb" was born.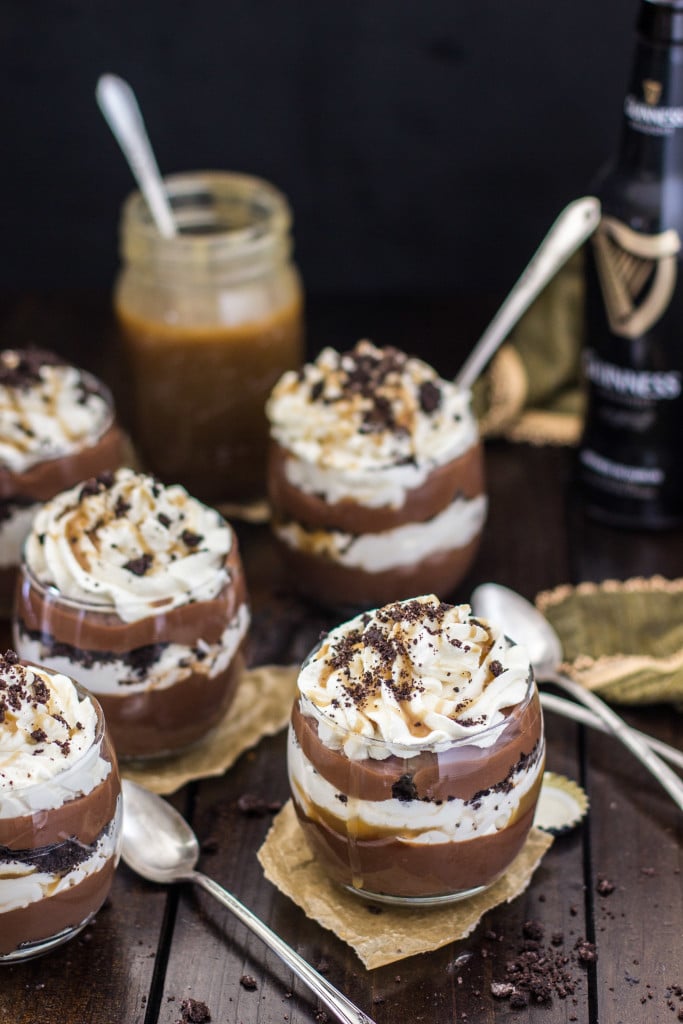 They're also a bit much for my embarrassingly delicate palate, and while Zach and Cait down them with enthusiasm, I usually toast to them with my cherry-topped Bay Breeze (or, if I'm feeling adventurous, some sort of fruit-sweetened shot).
However, in anticipation of St. Patrick's Day, I decided that this classic shot would be worth revamping in such a way that we could all enjoy them.  Chocolate, caramel, whipped cream and crushed Oreos go a long way in making this drink much more palatable for me.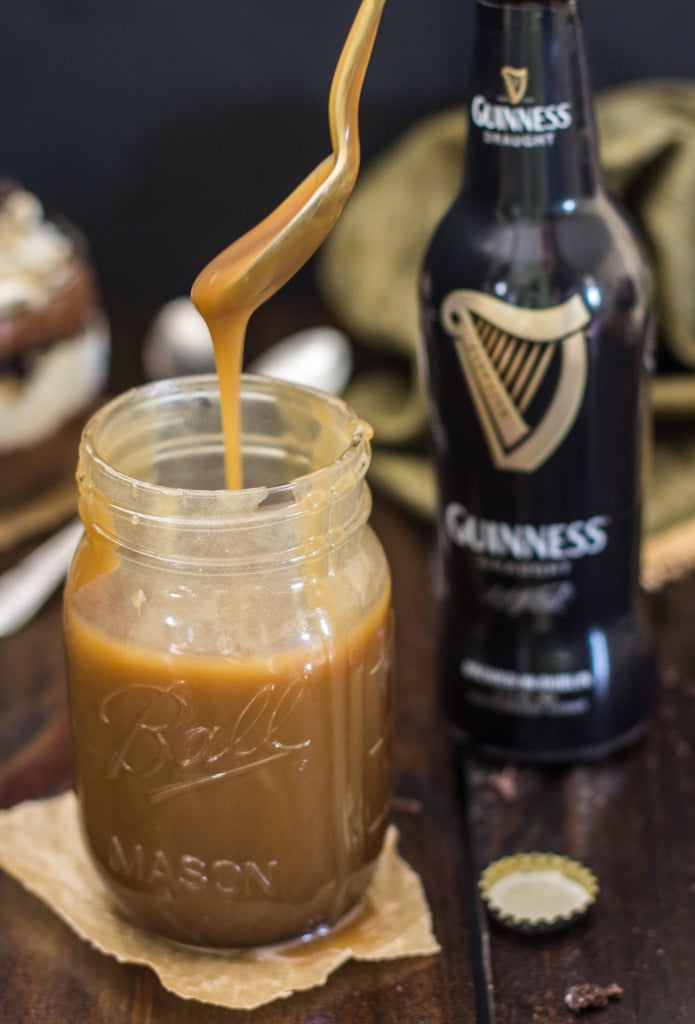 When preparing these trifles, I kept the alcohol flavors on the milder side so as not to overwhelm the natural goodness of the chocolate filling, the whipped cream, or the caramel, but rather to accent them.
The caramel is the most strongly flavored of the three with a distinctly Guinness taste.  The Jameson flavor comes out mostly in the pleasant, chocolaty aftertaste, and the Baileys flavor is crystal clear in the soft, homemade whipped topping (and is my favorite of the three flavors).  I've also included notes in the recipe in case you want to increase the whiskey taste of the chocolate.
A few layers of crushed cookie crumbs offer a nice change in texture, a pronounced crunch between your teeth, please do not omit them when making these trifles.
This recipe makes 5-6 parfaits if you make them in the 8 oz glasses shown here, but feel free to change it up and use smaller glasses (maybe even shot glasses!).  My family members split them, two people sharing a glass, but Zach managed a whole one on his own (and then another).
The pudding and caramel should be made a few hours in advance (even a day in advance would be fine) as the pudding needs to set and the caramel needs to cool, but the whipped topping is best if made the same day that you plan on serving it.  I never have had a problem with my whipped cream separating when stored, but I know that some people have encountered this so I suggest making it the day you are serving, just to be on the safe side.
That being said, I had a few leftover assembled trifles that were perfectly fine two days later.
When broken up into parts, this recipe is not a difficult one, but it is a bit of work and takes some time. It's so worth it, though, for the richly delicious final product (take it from someone who doesn't even like Irish Car Bombs).
Slainte!
Irish Car Bomb Trifles
Irish Car Bomb Trifles! Made from scratch with Guinness, Baileys, and Jameson!
Print
Pin
Rate
Servings:
5
8 oz parfaits
Ingredients
Jameson Chocolate Filling
1 ½

cup

granulated sugar

2

Tbsp

cornstarch

¼

tsp

salt

2

cup

milk

1 ¼

cup

heavy cream

5

large egg yolks

4

oz

unsweetened chocolate--finely chopped

4

Tbsp

butter

cut into pieces

2

Tbsp

Jameson*

¼

tsp

vanilla extract
Guinness Caramel Sauce (this recipe makes about 16 oz, which is more than you will need. The leftover sauce is great for drizzling over ice cream, cakes, etc., and should be stored in an airtight container in fridge)
1 ½

cup

light brown sugar

tightly packed

½

cup

Guinness

8

Tbsp

butter

cut into Tbsp-sized pieces

½

cup

heavy cream

¼

cup

light corn syrup
Bailey's Whipped Cream (best if made same day you are serving)
1 ½

cups

heavy cream

½

cup

powdered sugar

1

Tbsp

Bailey's

¼

tsp

vanilla extract

15

Oreos

well-crushed.
Instructions
Jameson Chocolate Filling
Will need to chill at least 4-6 hours before serving.

In medium saucepan, whisk together sugar, cornstarch and salt.

Add egg yolks, milk, and heavy cream.

Transfer saucepan to stovetop over medium-high heat and whisk ingredients together.

Stir ingredients continuously on Medium-high until ingredients begin to thicken, as soon as mixture begins to bubble (begins to come to a boil), remove from heat and add in chocolate, butter, Jameson and vanilla extract.

Whisk until ingredients are smooth and the chocolate and butter are completely melted.

Pour into a large bowl and allow to cool for 10 minutes.

Cover the chocolate with clear wrap. Be sure to lay the clear wrap so that it is in direct contact with the surface of the pudding to prevent a skin from forming. Allow chocolate pudding to cool to room temperature before transferring to refrigerator to chill for 4-6 hours.
Guinness Caramel Sauce
The caramel sauce will need to be made several hours in advance to cool before using. It may also be made the night before. If made night before store in airtight container in refrigerator and then microwave until caramel is slightly warmed and easily pourable.

Combine all ingredients for caramel sauce in medium saucepan over medium heat.

Stir until butter has melted, increase heat to Medium-high and bring to a boil, stirring constantly.

Once mixture is boiling, continue to boil for 3 minutes (while still stirring constantly) then remove from heat, continuing to stir for about 1 more minute.

Allow mixture to cool completely before using.
Bailey's Whipped Topping
Chill a clean, medium-sized bowl in your freezer or fridge for 10-15 minutes (preferably a metal bowl, but not required)

Once bowl has chilled, remove from fridge and combine all ingredients for Bailey's whipped cream in the bowl.

Whisk on high speed (preferably using an electric mixer, it can be a lot of work to hand-whip cream) until desired consistency is reached (whipped cream texture/stiff peaks).
To Prepare
Layer crushed Oreos on the bottom of each glass, then pipe or pour in chocolate filling, then whipped topping. Drizzle caramel on top of whipped cream, then repeat the layers by adding an even layer of crushed Oreos, then chocolate filling, then whipped cream. Drizzle with more caramel and then sprinkle with additional Oreos. Serve.
Notes
*Add more Jameson to taste if you want a stronger flavor. Do not increase beyond 4 Tbsp (

¼ cup

) or you may alter the consistency of the pudding.
Nutrition
Serving:
1
parfait
|
Calories:
1796
kcal
|
Carbohydrates:
195
g
|
Protein:
14
g
|
Fat:
111
g
|
Saturated Fat:
66
g
|
Trans Fat:
1
g
|
Cholesterol:
489
mg
|
Sodium:
667
mg
|
Potassium:
629
mg
|
Fiber:
5
g
|
Sugar:
169
g
|
Vitamin A:
3532
IU
|
Vitamin C:
1
mg
|
Calcium:
331
mg
|
Iron:
8
mg
You May Also Like:
Peanut Butter Pie Dessert Shooters