A sweet sprinkle-spangled giant cookie baked in a skillet and served warm and gooey, topped with ice cream and chocolate.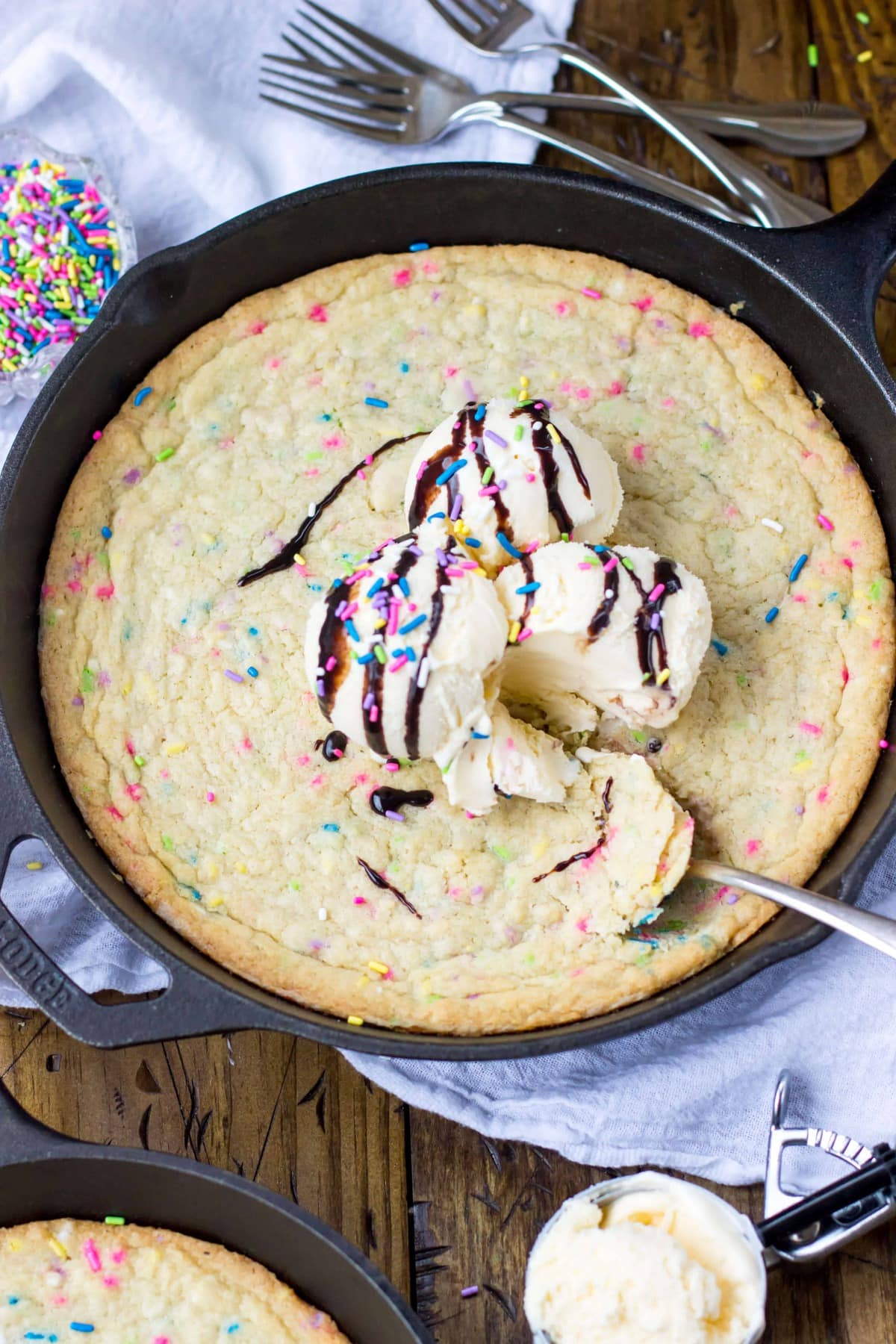 Between my bridal shower and my wedding reception I unwrapped four different cast iron skillets.
Zach didn't like them at first.  He thought they were too high maintenance and too difficult to clean compared to their nonstick or stainless steel counterparts.  They were a pain to get to, he complained, their significant heft made it tough to finagle out of our low cabinets where they were nestled inside one another.
And then, somewhere along the lines, he completely changed his mind.
The cast irons are his favorite kitchen tools (next to the kitchen shears that he seems to find a way to use every. single. day… need to cut a sandwich in half? Kitchen shears!), and he has taken on the responsibility of  carefully, meticulously seasoning their coal-colored surfaces until they're smooth and shining.
He cooks his burgers and sears his steaks in the cast iron when it's too cold for the grill, and I've pretty much lost custody of them.
This weekend, though, I reclaimed the cast iron pans for myself and, for the first time in their history, I used them to make something sweet rather than savory  (which seemed almost blasphemous considering the skillet's almost exclusive red-meat history).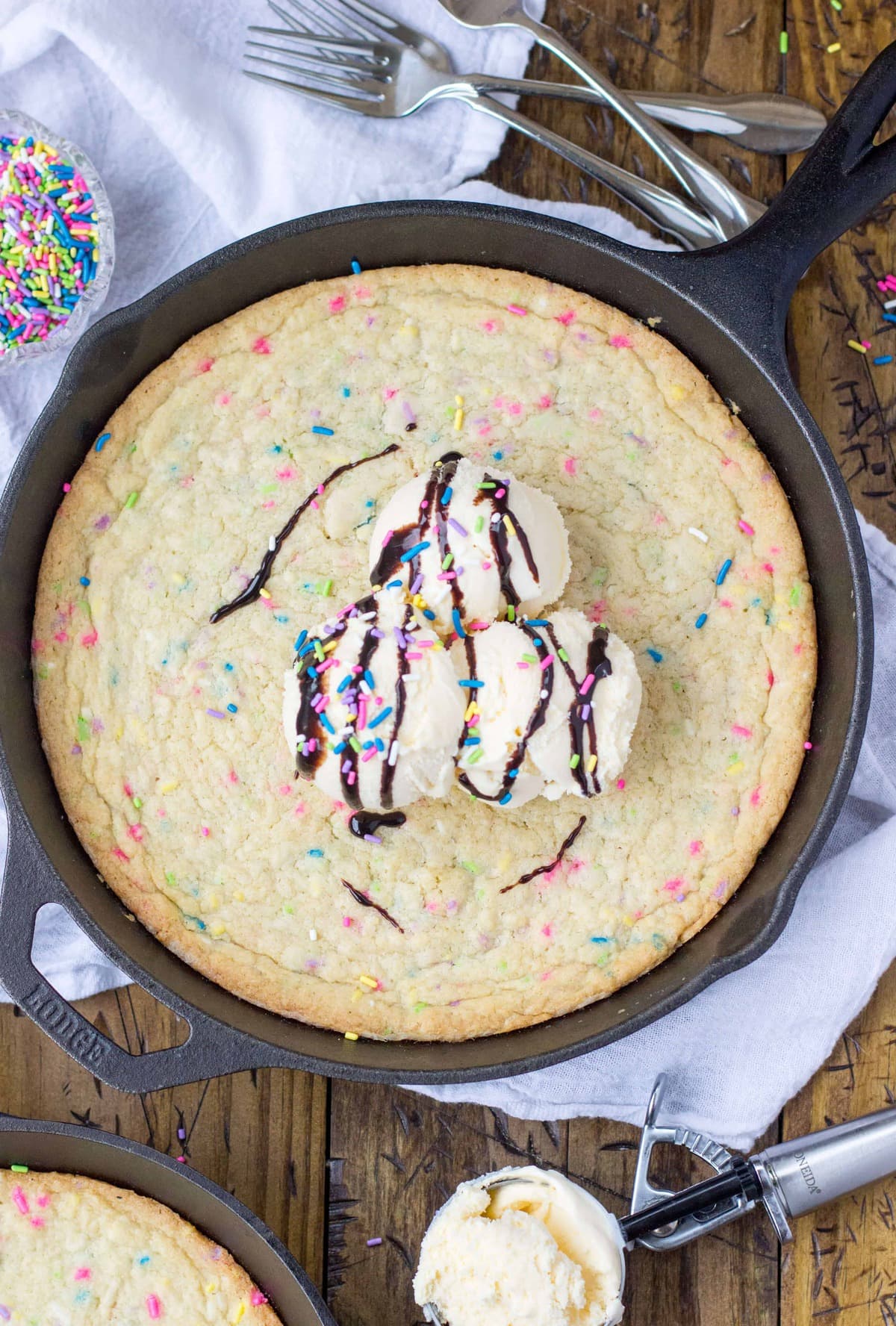 And I held nothing back.
Butter and sugar, extra vanilla, and plenty of sweet, sweet sprinkles make up this thick, gooey, chewy cast iron cookie.  Devour it warm, topped with a generous scoop of vanilla ice cream, drizzled with chocolate, and (of course) topped with even more sprinkles.
Cookies (or would this be a blondie?) made in a skillet and eaten with a spoon (and with ice cream) beat the run-of-the-mill, individually-portioned version every time (unless it's these cookies, of course).
This Funfetti skillet cookie is definitely best served warm, but you can also let it cool sans ice cream and then slice it into wedges for cookie slices, instead.
Enjoy!
Instructions
Preheat oven to 350F. Generously butter the sides and bottom of a 10" cast iron skillet and set aside.

In a KitchenAid or using a handmixer, beat butter until creamy.

Add in sugars and beat until light and fluffy.

Stir in eggs, one at a time, and then vanilla extract. Make sure to scrape the sides and bottom of the bowl periodically so the ingredients are mixed well.

In a separate bowl, whisk together flour, cornstarch, baking powder, and salt.

Gradually stir flour mixture into the butter mixture, until the ingredients are completely combined.

With your mixer on low-speed, stir in the sprinkles.

Pour out into 10" skillet and bake on 350F for 30-35 minutes (the edges should just be turning golden brown).

Allow to cool for 10 minutes or so. Top with ice cream, chocolate sauce, and sprinkles (if desired) and dig in! Be careful, though, the skillet will be very hot!

You may also allow the blondie to cool completely, and then slice into wedges and enjoy as is.
Nutritional information is based on third-party calculations and should be considered an estimate only. Actual nutritional content will vary based upon brands used, measuring methods, cooking method, portion sizes, and more.
You Might Also Like: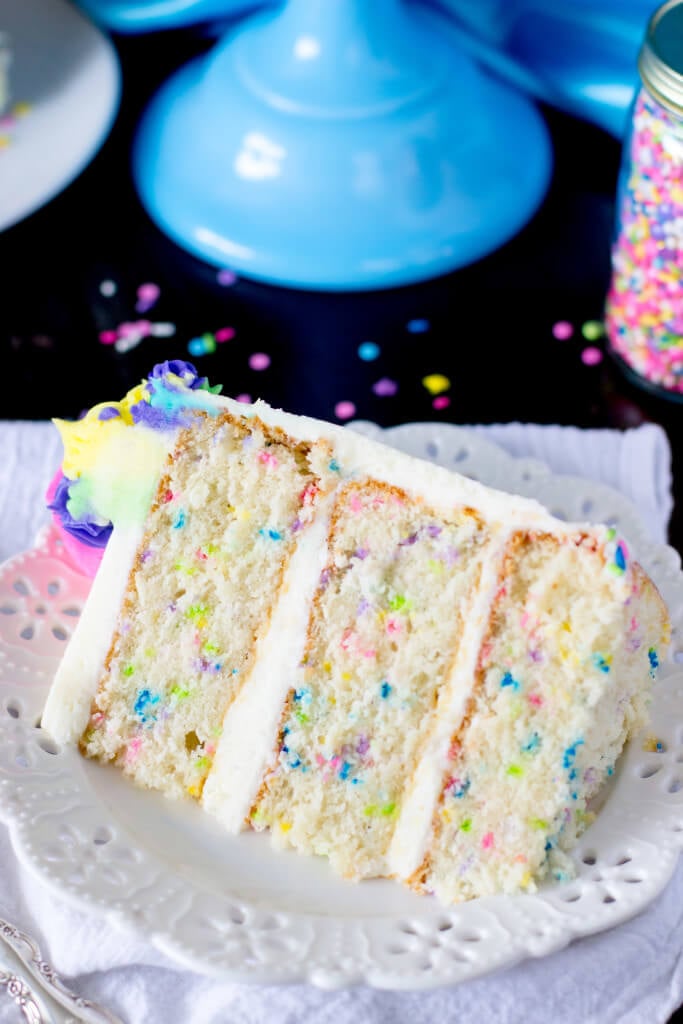 Funfetti Filled Chocolate Chip Cookies