Today's post is sponsored by Challenge Dairy, thank you for supporting the brands that support Sugar Spun Run!  All thoughts and opinions are my own.
Super soft sugar cookies topped off with a cream cheese frosting, then topped with fresh fruit!

I'm sharing today's recipe for Fruit Pizza Cookies over on Challenge Dairy, make sure to click over there to grab the full recipe!
I mentioned in my post last month that I'm thrilled to be a brand ambassador for Challenge Butter, and I was so excited to develop and make this recipe for Mini Fruit Pizza Cookies for them today using both Challenge butter and Challenge cream cheese.  I'm a huge fan of Challenge products both because of their superior quality and the taste that they impart on your baked goods.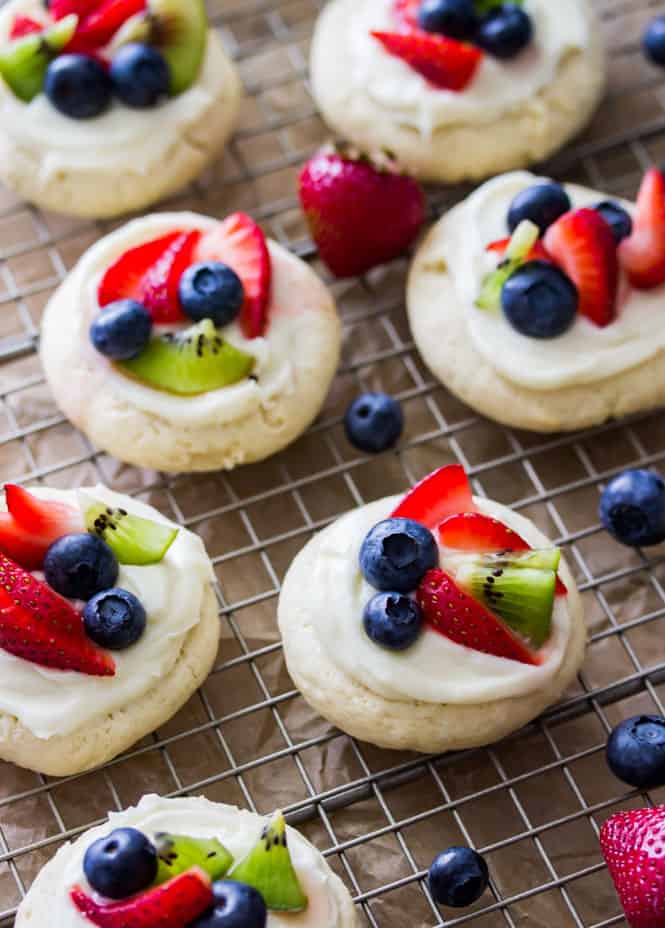 I might've also mentioned a time or a dozen before that I'm a sucker for a good, soft cookie.  I always prefer my cookies to be soft, chewy, and melt-in-your-mouth rather than crispy (I know not everyone agrees with me on this!), so when I set out to develop the sugar cookie "pizza" bases for this recipe, soft was the only way to go.
To get the perfect texture for these cookies, I added sour cream to the dough, which not only makes them very soft but also helps to keep the cookie from being overpoweringly sweet.
The frosting "sauce" on top is a cream cheese based frosting that's then topped off with your favorite fruits — I chose sliced kiwis, strawberries, and blueberries.  You can use whatever fruits you prefer (raspberries or cherries would work great!), but don't add the fruit until just before serving, as the juices may run if the fruit sits for too long.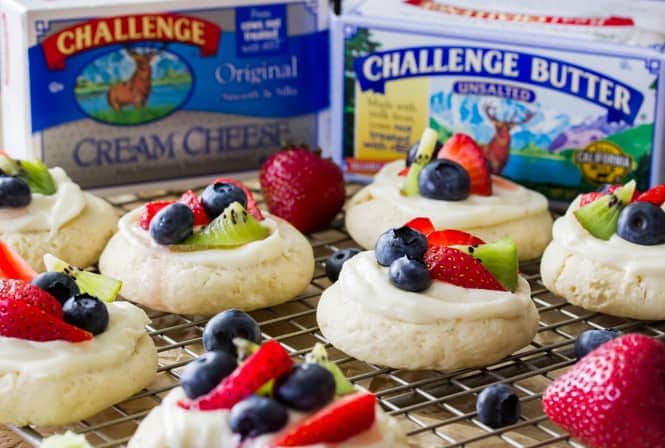 Check out the video below for a quick how-to guide on how to make these adorable fruit pizza cookies, and be sure to head over to CHALLENGE DAIRY for the full recipe!!
PIN IT: