Small handmade galettes filled with a simple yet decadent chocolate and raspberry filling. These easy chocolate raspberry galettes make a wonderful, romantic treat for anytime of the year.
While the blogosphere is currently bursting with red, white and blue posts I feel I am sadly off-trend yet again. The thought occurred to me while making these mini-galettes that they would be much more appropriate as, say, a Valentine's Day treat. Perhaps I should be sharing just a classic summer-fruit-filled galette recipe.
But raspberries are in season now I insisted to the nagging voice in my head, and there's just no way I could have waited until February to share these with you.
Perhaps I could have filled them with blueberries and strawberries and pastry cream and made fireworks in a galette shell, but the heart wants what the heart wants and (unsurprisingly) mine wanted chocolate.
Yes, despite their seasonal berries these galettes definitely seem to scream Valentine's Day; they are relentlessly romantic in their hand-made shells with their intoxicating combination of raspberry and chocolate. I only regretted that I didn't have a bottle of sweet red wine handy to shower the berries with before pouring them into their snug shells, or at least to serve beside them once they'd finished baking.
Perhaps, rather than Valentine's Day, these galettes might also be appropriate for a summer fling date. The thought occurred to me more than once that these would do well served after a perfectly homemade French dinner date preceded by a beautiful bouquet of flowers for the hostess and accompanied by plenty of wine.
I can see it now: two new, cautious lovers staring moonily into each others eyes, avoiding looking directly at the fresh herbs stuck in the others teeth. The air is dusky, their heads slightly abuzz and murky from the wine and the company, and they hand-feed each other bites of raspberry chocolate galettes while the sun dips beneath the trees around a beautiful wrap-around porch or a cozy fireplace crackles in the background.
It was all very Nicholas Sparks-like and ridiculous in my head, but that's the mood that these galettes seem to set.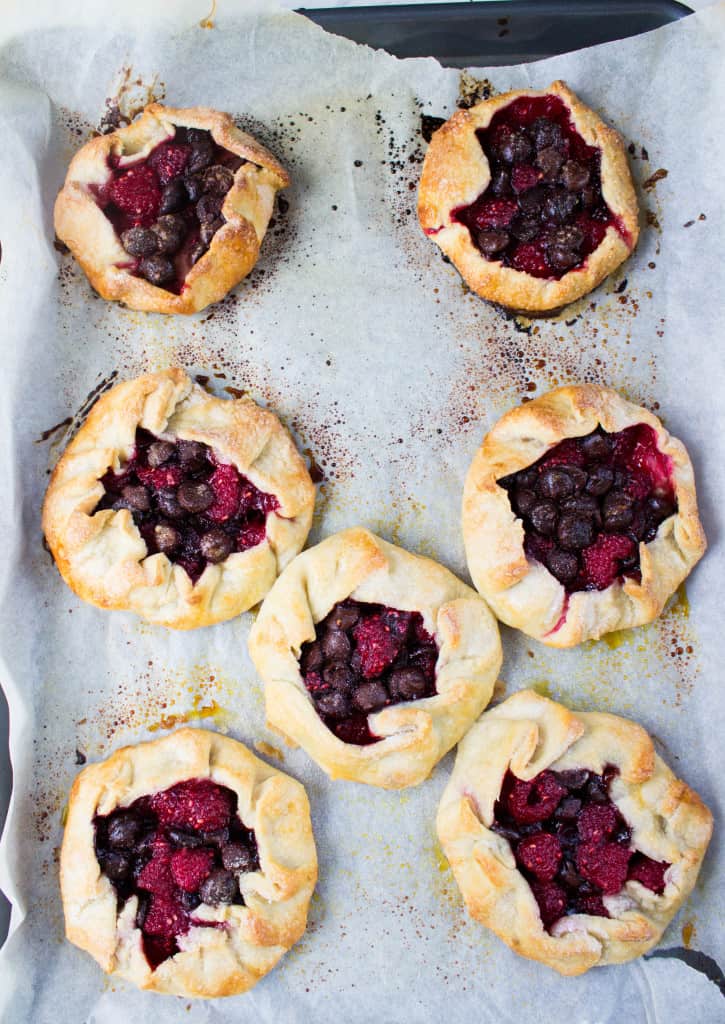 Romanticism aside, this galette crust is almost embarrassingly easy to make, simply divided into 7 or 8 pieces and rolled out, tucked partly over a raspberry and chocolate filling and well-sugared. The resulting taste is exquisite; bursts of ripe raspberries, half-melted morsels of chocolate that meld with the sweet tangy berries, soft and juicy textures beneath a crisp, flaky crust (I didn't use my classic favorite pie crust recipe here, but you could!).
While it may be recommended, it is not required that you save these for Valentine's day or for a fictional romantic evening with your tortured soul-mate who you've just been reunited with after fate cruelly pried him from your life (it's been a while since I've read any of Sparks' works, so maybe that's not quite how it would go…). As it so happens I shared this batch with my family sans wine and that was just fine.
More Recipes You Might Like (with chocolate!):
Treat yourself to a

FREE E-BOOK!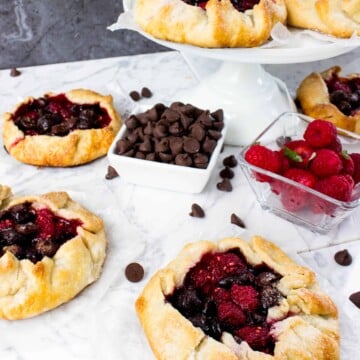 Chocolate Raspberry Galettes
Small handmade galettes filled with a simple yet decadent chocolate and raspberry filling.  These easy chocolate raspberry galettes make a wonderful, romantic treat for anytime of the year. 
Print
Pin
Rate
Servings:
7
small galettes
Ingredients
Crust
12

Tbsp

unsalted sweet cream butter

2

cups

all-purpose flour

2

Tbsp

cornstarch

1

tsp

granulated sugar

½

tsp

salt

6

Tbsp

cold water
Filling
2 ½

cups

raspberries

about 12 oz

2

cups

dark chocolate chips

or 2 cups chopped dark chocolate

1

tsp

pure vanilla extract

3

Tbsp

granulated sugar
Topping
1

egg

1

Tbsp

milk or cream

2-3

Tbsp

granulated sugar for sprinkling

turbinado preferred but not required

1

Tbsp

cornstarch
Instructions
Cut butter into small pieces and set aside.

In food processor pulse together flour, cornstarch, sugar and salt.

Add butter and pulse until mixture forms fine crumbs

Add water, about 1 Tbsp at a time until dough begins to cling together (you may need an additional Tbsp or 2 of water).

Pour crumbs into parchment paper and press together using palm of hand.

Gather into a ball, wrap tightly with clear-wrap and refrigerate for at least one hour.
Filling
While the dough is chilling, combine raspberries and chocolate chips.

Sprinkle vanilla extract over raspberries/chocolate chips and stir well.

In small bowl, combine granulated sugar and cornstarch.

Pour over raspberry/chocolate mixture and stir well.

Cover and transfer to fridge and allow mixture to sit while dough finishes chilling.

Once dough has finished chilling, remove from fridge and allow to soften on countertop for 10 minutes.

Preheat oven to 400F,

Break dough into 7 equal pieces, place on lightly floured surface and roll each piece out into approximately 4.5"-5" diameter circle (does not have to be an exact circle, part of the beauty of galettes is their rustic appearance) and transfer to parchment-paper lined cookie sheet.

Remove the filling from the refrigerator and drain as much excess liquid as possible from it.

Equally portion filling out amongst all galettes, making a small pile in the center leaving about 1" of space around the edges.

Gently fold edges partially over the filling.

In small bowl, whisk together egg and milk or cream.

Using a pastry brush, brush mixture over galette crust.

Sprinkle galettes(crust and filling) generously with sugar (about 1 tsp per galette)

Bake in oven on 400F for 30 minutes or until crusts are golden brown.

Remove and allow to cool before eating
Nutrition
Serving:
1
galette
|
Calories:
651
kcal
|
Carbohydrates:
70
g
|
Protein:
9
g
|
Fat:
37
g
|
Saturated Fat:
28
g
|
Cholesterol:
76
mg
|
Sodium:
234
mg
|
Potassium:
443
mg
|
Fiber:
6
g
|
Sugar:
25
g
|
Vitamin A:
656
IU
|
Vitamin C:
11
mg
|
Calcium:
181
mg
|
Iron:
3
mg