Irresistibly chocolaty cookies sandwiched around a silky peppermint buttercream filling and sprinkled with candy cane pieces.  
For someone who has never been a huge fan of candy canes, I sure do go through a lot of them this time of year.
I can't say for sure that it's because of the candy canes themselves, though, I think it has more to do with the fact that I'm constantly pairing them with chocolate, which is extra weird considering that I always believed mint and chocolate were about as far apart as you can get on the dessert spectrum.
What do I know, I'm just a food blogger.
Despite my initial reluctance to combine peppermint and chocolate, I kinda can't get enough of it now (as evidenced by this recent Peppermint Bark Fudge recipe).  So, when Better Homes & Gardens asked me if I would share a recipe on their website, I knew exactly the flavor combo that I was going to go for.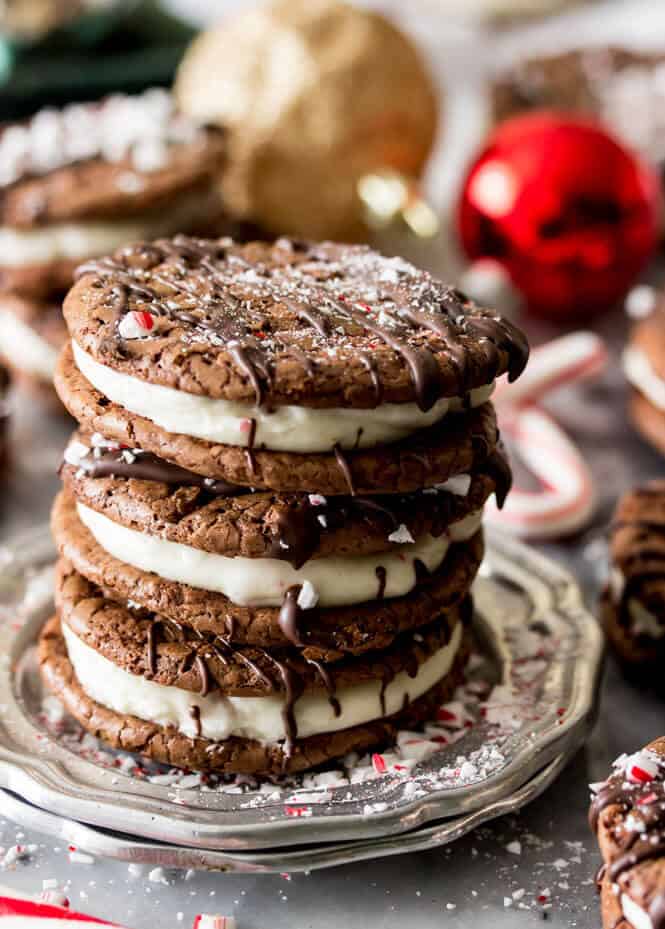 Better Homes & Gardens asked me to modify existing recipes from their site rather than develop something completely new, and I was instantly drawn to these triple chocolate cookies.  I made only a few subtle alterations, which you can read about here, and they came out perfectly.
I wanted to take things a step further than just recreating the cookies, though, and so I also updated a simple buttercream frosting to make peppermint bark sandwich cookies.
I added melted white chocolate for a true peppermint bark flavor, and then whipped in heavy cream to make the frosting silky and smooth.  Finally, I stirred in some crunchy bits of peppermint for some serious textural contrast.  This stuff was good, and paired perfectly with the insanely chocolaty cookies.
Everyone who tried these cookies loved them and they didn't last long for my family.  I can't think of a more perfect Christmas cookie.
Try them out yourself — CLICK HERE FOR THE CHOCOLATE PEPPERMINT COOKIE INSTRUCTIONS OVER ON BETTER HOMES & GARDENS — DELISH DISH!
Other Recipes You May Enjoy